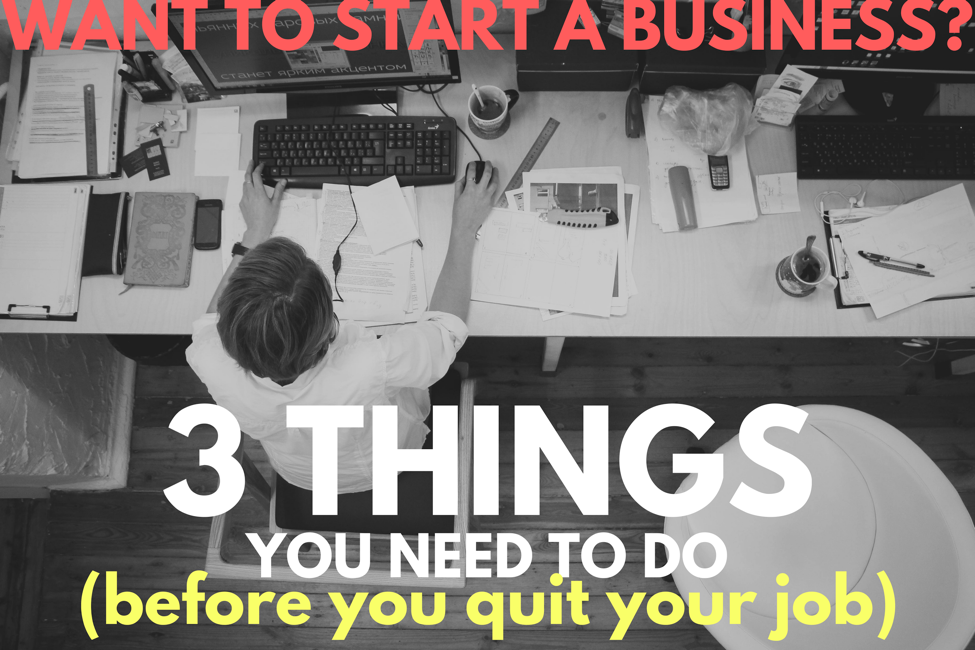 If you ever feel stuck at your 9 to 5 job, trapped in a continual loop of tedious, unproductive tasks and cemented at the same position without a future – you're not alone.
According to a 2016 study by Deloitte, 44% of millennials plan on leaving their current employer in two years time. This is an astonishingly high percentage, and it gets even bigger – 66% of millennials say they plan on leaving their current employer and changing careers in four years time.
We could spend dozens of hours speculating over what exactly is making all of those 20-something people miserable at their (often well-paid) jobs and prompting them to leave the corporate world, and we'd never get to a clear answer. The only thing that is clear, though, is the number of opportunities that await these hungry, hardworking young entrepreneurs outside of the traditional corporate structure.
However, despite all the opportunities to start and grow your own company, you have to remember that every business, no matter how fail-proof it might look, is a risky endeavor. And, in this time of political and economic uncertainty, not having a safety net is a sure way towards bankruptcy.
It takes more than an idea, no matter how great it is, to pay your bills, so don't jump out of your chair and quit your day job just yet. If you've got the itch to start your own business, here are 4 things you need to do.
1.Do a bit of introspection
Before you even start considering what your solo business endeavor should be, you should take a minute and think a bit about yourself and how you work.
Are you a risk-taker by nature? Or do you prefer to take things slow and steady and plan ahead? Do your emotions get in the way of making rational decisions, or do you always keep your cool? Is it better for you to work alone or in a close-knit team of your peers?
These might seem obsolete, but they're all questions that you need to know the answer to in order to be a successful entrepreneur. If you know yourself, the way you work and the way you handle stress and pressure, you'll be one step closer to owning and running a successful company.
Take your time with this – it takes more than one boring lunch break for anyone to figure this out. The more you spend thinking about it, the more you'll be certain you've come to the right conclusions. Think of this process as building a foundation for your future business – make it anything less than solid, and you're off to a pretty rocky start.
2.Understand who your customers are
If you're reading this, chances are you already have a business idea all thought out in your head.
Don't get me wrong – it's great to know exactly what you're after. However, no successful company tailors its business according to an idea. Instead, it's the customers that shape the way you do business.
That's why it's more important to have a clear idea of what your target audience is – their age, gender, location, language and their personal preferences. It might seem like the type of detailed research only skilled teams of experts can do, but in reality, it takes nothing more than a few Google searches and a bit of asking around to accomplish that.
Learning more about your potential future customer will help you steer your business ideas into the right direction. During your research, you might even discover new possibilities for your business or see international opportunities opening up. These can be invaluable assets both to you as an entrepreneur and for your business.
When you've accumulated all of that data, it's important you know how to use it to make your business more profitable. The easiest and most efficient way you can do that is to create a website for your company. Your company doesn't have to be registered, nor do you need to have a brick-and-mortar store. Having a website all set up means one thing less to worry about when you're knee-deep in the ever present day-to-day struggles of running a business.
Setting up a website usually makes people think of dollar signs and time – both things struggling entrepreneurs can't afford. However, setting up a website is much easier than you think – there are amazing tools available online that allow you to do it in no time. Keep on reading, because we have a special recommendation for you at the end of this article – a time and money saving tool we think every small business owner should use.

3.Work in the industry
Any research you might do on the topic of starting your own business will inevitably lead you to the infamous statistic that 8 out of 10 small businesses fail within the first two years. While we're not disputing the truthfulness of this statement, there are many layers to it – ones that can often deter people from starting their own companies.
What these statistics don't tell you is that the reason all those businesses fail is a combination of bad planning, a lack of finances and – inexperience in the industry. And that 20 % of them that do succeed – more than half of them do so because their owners know their industries inside out.
Going to college or pursuing a Master's or a Ph.D. degree while you work full-time is out of the question. Spending years being an apprentice and learning a new skill is downright impossible. But, there is a way you can immerse yourself in a relatively foreign industry and learn the craft first-hand, and that is working your way through different aspects of the business you wish to enter.
One of the benefits of having a stable, 9 to 5 job is the amount of free time you get. Why not use that free time and put it towards a good use. Anybody can afford to spend a few hours every day working part-time – a bit of extra income is always welcome, and you'll be at the front line of everything.
Want to start a restaurant? Or your own coffee shop? Why not ask around and see if any of your local cafés need a waiter to cover some shifts? You don't have to dedicate all of your time to this – a quick, two or three-week run through all of the low-end hospitality jobs should be enough to give you a rough idea of what the industry looks like.
This is probably the most important step, so make sure you don't skip it. Even if doesn't turn out the way you wanted to (e.g. you realize that it's not for you), you'll come out of it smarter and more experienced – which is something that's worth much more than the effort you've put in it.
Conclusion + a bonus tip

Dedicating a few weeks of your life to this will not only set your business on the right track, but it will also help you be more successful in the long run. A little introspection, a bit of research and a few week's run through all of the aspects of your desired industry is all it takes. Add passion and dedication to the mix, and you've got yourself a recipe for prosperity.
The very definition of an entrepreneur implies a person that can do almost anything by himself. However, the fact that you can do something doesn't necessarily mean that you should. In your entrepreneurial pursuits, it's good to have useful tools you can rely on for a bit of extra help. The internet is full of those, so it can be hard to see what's best for you and your business.
We're here to help, and have an amazing tool to recommend. The tool in question is SITE123, a free website building platform mainly focused on small/medium business owners and entrepreneurs.
As having a professionally done website is the most important step in establishing a name for your company, why not make it as easy as possible and completely free. What's great about SITE123, apart from its intuitive interface and easy-to-use features, is the ability to translate your website to more than 50 different languages. And having a whole new client base just a click away from you – now that's we call an amazing business opportunity.
Join the Thousandaire newsletter
Subscribe to get our latest content by email.