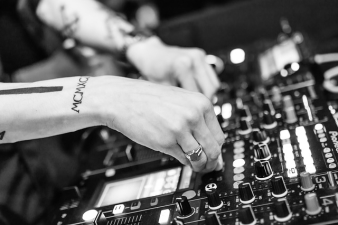 Nearly everyone has had dreams of becoming a professional musician at one point or another. Whether you wanted your high school rock band to make it big or had dreams of becoming a R&B sensation, those dreams were likely a major part of your formative years. Of course, most of us aren't meant to become chart-topping musicians. And that's OK — especially because you can combine your love for music with other skills. In fact, becoming a sound engineer could ultimately be more enjoyable and more financially lucrative than trying to become a professional musician. Here are four reasons why a sound engineer could very well be your dream profession.
A Career in Music
First and foremost, if you have a love for music, the role of sound engineer provides you with a perfect opportunity to work behind the scenes in one of the most interesting industries around. The role of sound engineer requires a good ear for music, as well as some solid technical expertise when it comes to mixing and mastering audio to achieve high-quality results. You don't necessarily have to be a great musician to become a sound engineer — you just need a good ear and a love for music.
Variety
Becoming a sound engineer provides a wide variety of job opportunities. While we typically only think of sound engineers as people who work in recording studios, the sound engineer is also involved in sound check during live performances, and sound engineers are also a staple in the worlds of film post-production and video game audio. The variety of work that is available to a sound engineer ensures the job is never dull. No matter what style of audio recording you find the most intriguing, chances are there is a position to match it.
Financial Stability
Perhaps most importantly, working as a sound engineer can provide a much more stable financial situation than trying to make it as a professional musician. While becoming a sound engineer requires a fair bit of training, the end result is a job that is always in demand. After all, there are always bands — even on a local level — looking for someone to help them record their next album. And there are always television shows and video games that need someone to make sure that their sound mix is just right.
This high demand for sound engineers means that this position can be quite lucrative, with many Canadian sound engineers making upwards of C$80,000 per year!
Flexibility and Growth
The variety of job opportunities for a sound engineer can help you create a more flexible work environment that allows for ample career growth. For example, many sound engineers start by working at a professional recording studio, assisting in mixing and mastering music. After some time in this position, it is possible to become a music producer, who has more direct oversight of the entire recording process. In fact, many producers are at least partially responsible for choosing and writing the songs that make it onto a musician's album.
But this is far from the only career path you can take. Many sound engineers choose to open their own smaller recording studio where they can work with local artists on a flexible schedule. Many enjoy this option because they can even set up their recording studio in the comfort of their own home.
Conclusion
If you have a love for music and the technical abilities needed to master the art of sound engineering, a career as a sound engineer just might be the perfect fit. You may not be performing in front of screaming fans every night, but you'll be able to make money doing work that you love.