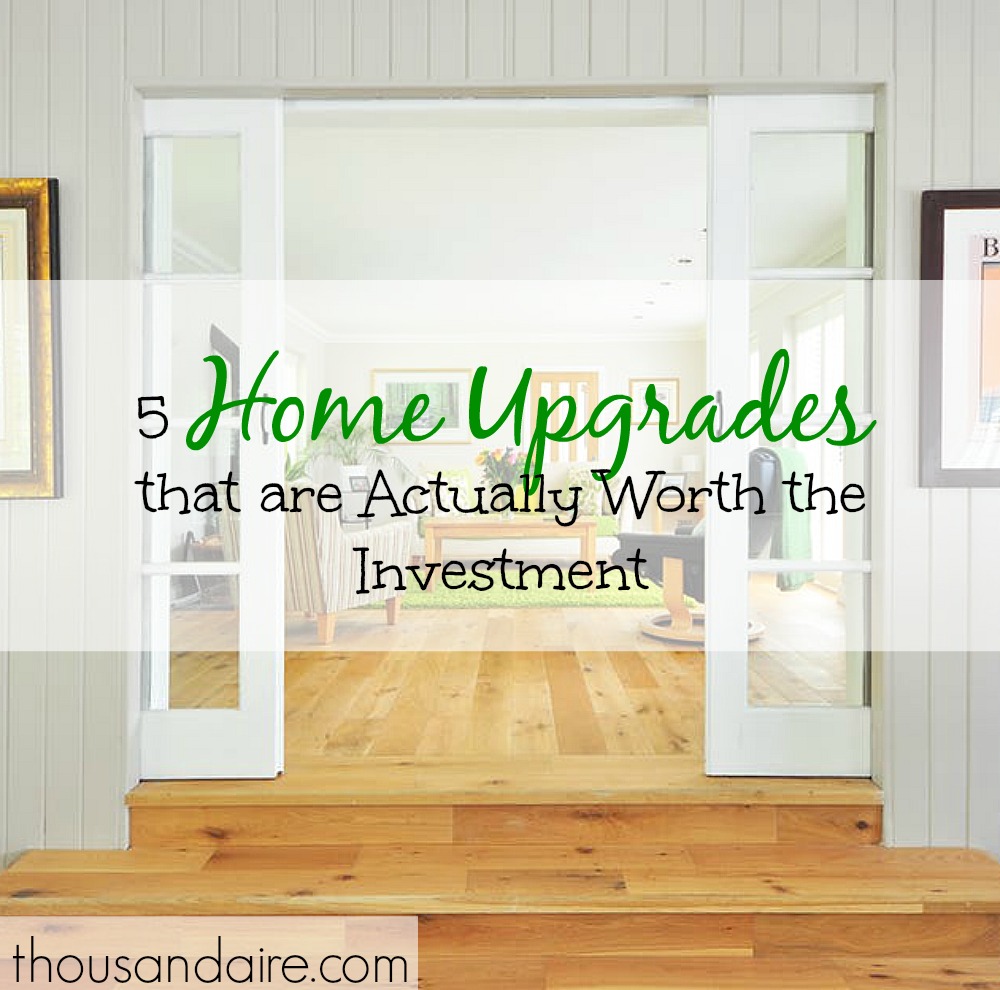 Today we have a guest post for you from Anum Yoon.
Upgrading your home can be a great way to make an old building feel new, get some extra floor space, or improve the overall value of your home. Unfortunately, it can be hard to tell which upgrades are going to be worth the money you're putting into them and which ones are the equivalent of pouring money down the drain. What are home upgrades actually worth the investment? Here are five you should consider.
Basic Kitchen Upgrades
A full kitchen remodel might be tempting to add value to your home, but it could also end up being a total money sink — no pun intended — if you try to design a state-of-the-art kitchen in your little tiny townhouse. Places you should consider spending money include:
Backsplash — Adding a clever-looking backsplash is fairly inexpensive and can be a DIY project. It protects your walls from water or cooking splashes and adds some aesthetic points as well.
Appliances — If you're staying in your home or not setting it up to sell, invest in good, energy-efficient appliances with good warranties.
Cabinets — It's much cheaper to replace your cabinets than it is to rebuild your entire kitchen, and new cabinets can add a whole new look to your cooking space.
If you've got a 50-year-old outdated kitchen, then you could benefit from a full remodel, but other than that, some fresh cabinets or a new backsplash could do wonders for the appearance of your kitchen and your home.
Energy Efficiency
Optimizing your home for energy efficiency can have multiple perks. It increases the resale value of your home, and it can lower your heating and energy bills over time. It doesn't take a ton of money or effort to improve your home's energy efficiency. Try:
Replacing your weather stripping — Doors and windows are the worst temperature loss points in a home. Old or dry-rotting weather stripping should be replaced.
Adding insulation — If your home was built before the mid-1970s, it probably doesn't have insulation in the attic or walls. Spend the money to get high-quality insulation installed.
Replacing old appliances — Old appliances are not designed to be energy efficient, so replace them if possible.
Replacing your windows — We've already mentioned that windows are major heat loss points — replacing your windows with energy-efficient alternatives will reduce heat loss.
Technological Advances
Even if you're not a fan of the internet of things, there are some technological advances you can add to your home to improve both your quality of life and your home's resale value:
We know most of your technology will go with you if you choose to move, but devices like smart thermostats can add resale value to your home and make it more comfortable and energy efficient while you're living there.
Outdoor Spaces
If you live in an area that has nice weather or you have a backyard you'd like to do more with, consider adding a deck to your backyard.
You can expect to recoup more than three-quarters of the investment in your new wooden deck at resale. Most outdoor decks are much more affordable than adding square footage to the inside of your home, costing less than $23 per square foot instead of more than $80 for indoor square footage.
More Square Footage
Sometimes moving to a new home just isn't an option, so consider adding some additional square footage to your existing home. It's probably one of the most expensive additions that you can make to your home, but sometimes that extra square footage is all you need. Of course there are options like a quick trip to The Container Store for additional storage in your current home layout. One study found for every 1,000 square feet of space you add to your home, you increase your home's value by 3.3%. A few things to remember about additions like this include:
Use reliable contractors — Poor work will cost you and end up detracting from the value of your home.
Be prepared to vacate — Depending on the work being done, you may or may not be able to stay in your home for the duration of the construction.
Expanding the foundation is costly — If you need to expand your foundation, it will add to the cost of your remodeling.
When it comes down to it, if you need more square footage, then you need more square footage. Don't skimp on the contractors — you get what you pay for, after all.
Upgrading your home can be a great way to improve its resale value or make it a bit more comfortable while you're living there. Just avoid money sinks and focus on the upgrades that get you the best bang for your buck.
Anum Yoon loves all things related to personal finance. She founded Current on Currency after realizing there wasn't a personal finance blog that tailored posts for international students. Current on Currency has since expanded to become a millennial money blog, so follow her on Twitter @anumyoon to check out her updates.
Join the Thousandaire newsletter
Subscribe to get our latest content by email.