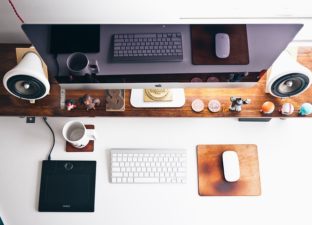 Starting a small business is an exciting time. You are filled with optimism for the future, and plenty of ideas that you want to start implementing right away. Motivation is high, and the first few months can go by like a whirlwind. However, over time, many small business owners that things grow rather difficult. That initial momentum is gone, and you need some help to keep your business going. If this sounds like you, consider these 5 tips to help keep things going and improve your small business.
Gather Customer Feedback
The best way to know how to move forward is to figure out what you're doing right, and what you're doing wrong. The people who would be able to answer this question best are your customers. By gathering feedback from your customers you can gauge how your business is doing, and where it needs improvement. If you want to keep your business going, you'll need to make sure your customers happy, so find out how you can do that by handing out some surveys, asking for direct feedback, or creating a spot on your website for customer comments.
Focus On Marketing
Once you know more about your customers, you can better tailor your marketing plans towards them. Marketing is key for any small business to grow, as you don't have the name recognition yet compared to larger businesses. Whenever you're not sure what else to do, focus on your marketing efforts. Look for new ways to market your company, and for better ways to reach your customer base. Money is usually tight for small business, so you'll want to find a way to market on a budget, while also getting the most for your money.
Look For Ways To Cut Costs
In order to keep your business going long term, you'll need to operate on a low budget at the beginning. Your initial funding is likely to go quicker than you'd like, and many small business owners find that they can't even take a salary in the beginning. This may not be enough to keep your business going though, so you'll need to find other ways to cut costs. For example, allow employees to work from home rather than in an office, hire interns to perform some of the more basic tasks around the office, or look for low cost technology solutions. The more you can save, the longer your funding will last, and the longer your business can keep going.
Find Extra Funding
If, no matter what you do, your funding is still drying up, you'll need to find a way to get more. One great option is to get a working capital loan, which provides businesses with funds. Working capital loans are not used for long term purchases, but are instead used to cover things like payroll costs and utility bills. They are commonly used by seasonal businesses who need funds to hold them over until the busy season arrives, but they can be used by practically any business. If your business is in need of some short-term funding, this is one option to explore.
Have A Plan For The Future
Lastly, it is important that your business have a plan for the future. You need to have not only an effective financial plan, but a plan that includes the goals for your business. If you are only taking things day by day, you'll likely find that problems pop up more than you would like. You want to have specific goals for your business, something that you can aim for each day. This will allow you to keep your eyes on the prize during tougher times, and help direct the decisions you make for the short term. Write down where you want your business to be in a month, a year, and five years, then come up with the steps necessary to get you there.
Don't Quit Just Yet
Things may look tough at the moment, but don't give up just yet. Keeping a small business going is difficult, but there are many options out there that can help you out. It is important to know what you can do to keep your business going, and how you can go about it. Before you throw in the towel, be sure you have explored all of your options, and made sure there is no possible way for you to keep things going.
Check out some of our popular posts for more personal finance sense:
Save More Money in 2018
Subscribe and join the worldwide 52-week money challenge! Get the tools you need right to your inbox.