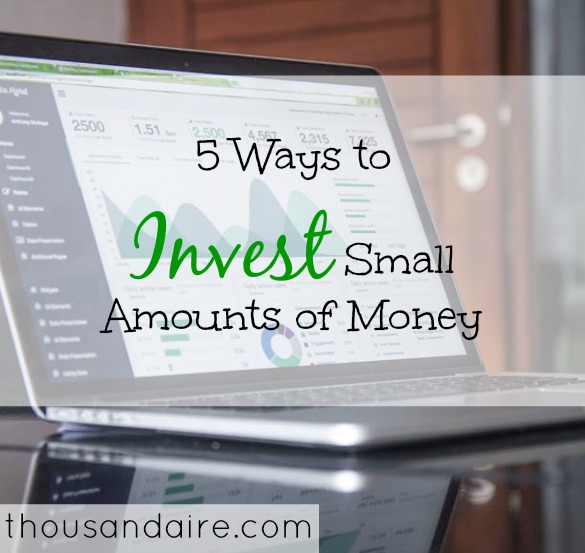 One of the most common misconceptions about the investing world is that you have to have thousands and thousands of dollar set aside to dedicate to put in your portfolio. That couldn't be further from the truth, there are plenty of ways that you can invest with a small amount of money that you've got in your bank account.
Investing is one of the best ways to secure a comfortable future for yourself and your family. If you've never invested before, it can be a scary and overwhelming to start your portfolio, but it's not as complicated as you may think.
Acorns
Acorns have become of one of the most popular options for investing a small amount of money, right off your phone. Acorns sync up to your bank accounts, and it will take a small amount of money based on your spending and savings every couple weeks and automatically invest that money for you. One of the best parts of Acorns is that you don't have to do anything to invest that money.
After you've created your Acorns account and linked your bank accounts, all that you have to do is sit back. After that, Acorns will take a dollar or two every couple of weeks and put that in a variety of different investment vehicles. On the app, you can see how your investment account has been performing and how much money you've made.
Motif
Another easy way to put that extra money to work is to use Motif Investing, which makes buying stocks easier (and cheaper) than ever before. With Motif, instead of only buying one stock in a single company, you'll purchase a "motif," which is a collection of 30 different stocks. All of the stocks in the motif will revolve around an industry. With Motif, you can start investing in these 30 stocks with as little as $250. Because you'll do less trading, Motif has some of the lowest fees that you'll find.
Loyal3
If you would rather purchase a single stock instead of a grouping of stocks, then Loyal3 can be one of the best places for you. Loyal3 is a unique investment platform that is perfect for someone that doesn't want to put thousands and thousands of dollars in their portfolio.
Loyal3 allows you to buy stocks for as little as $10 or you can even purchase fractions of shares of a stock. With Loyal3, you can buy stocks in a variety of some of the largest companies on the market, like Time Warner or Apple.
One of the pitfalls of Loyal3 is that you can only invest in the 66 companies that partners with Loyal3. While you're going to be limited on your options, Loyal3's platform will allow you to invest with that extra money that you have sitting around.
Lending Club
Lending Club has become one of the hottest options for investing on the market. Lending Club is a peer-to-peer lending site that will let you connect with people looking for money and give you the opportunity to purchase a "note" into that person's loan request.
Lending Club makes it easy to browse through the different borrowers' application for loans and how much you can make off of investing in that loan.
One thing that you should realize before you join Lending Club is that you'll be required to invest an initial $1,000, but after that, you can purchase notes for as little as $25.
Betterment
If you want to be less "hands-on" with your investing, then Betterment is the platform for you. Betterment uses "robo advisor," which are algorithms that will handle all of the investment decisions for you.
When you create a Betterment account, you'll set your investment goals and then start depositing money. After that Betterment will handle the rest for you. Their robo advisors will invest the money for you and continue to reinvest that money as you earn more. Betterment is one of the easiest ways to sit back and watch your money grow.
Investing Small Amounts of Money
As you can see, there are dozens of ways that you can invest with a few bucks. One of the most important things that you should realize is that you shouldn't wait to start investing. The earlier that you start investing, the more money that you can make. Creating an investment portfolio is easier than it sounds. Don't be scared to jump into the investment waters.