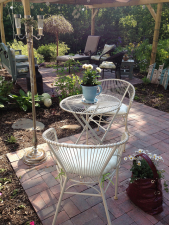 The process of revitalizing your garden can seem like a daunting and expensive one –after all, your garden center has a decoration and gadget available for just about everything imaginable. But there are plenty of great ways to spruce up your garden without emptying your wallet; it's just a matter of knowing where to spend on new, quality items and where you can cut corners by reusing and recycling goods for use in the garden. So if you're thinking about giving your garden a new look, here are some tips to help you do so without breaking the bank.
Buy quality tools
The one thing you don't want to skimp on when fixing up your garden is tools, as they will be used and re-used throughout many seasons, and having pieces of quality will make your life that much easier. There is nothing worse than having a dull set of shears or a trowel with a loose head, so when you head to the store for a new piece of gardening equipment, be sure to get something of good quality that will stay with you for the long run. You don't always have to spend a fortune to buy quality tools though; many big supermarkets, including Tesco, offer good equipment for tight budgets.
Recycle old household items
There are plenty of great household items that can be used to give your garden a little something extra in the decoration department, and on top of that they come free of charge. If you've replaced any mirrors in your house recently, the old ones can be used as a great addition to your garden, adding a little bit of flare to a fence or shed wall. Similarly, if you're looking for unique pots or hanging baskets, consider using old colanders, which you can grab from your own kitchen or look to pick-up at local second-hand markets or sales. Other types of reusable materials that can be helpful around the garden include old tires, which can be painted or covered in earth to create leveled beds, or even hanging shoe racks, whose individual pockets can be filled with earth and used as a spice and herb garden.
Using organic waste from your kitchen
There are many ways in which the waste from your kitchen can both help your garden and cut down on maintenance costs. The biggest thing waste from your kitchen can go towards is replenishing the soil of your garden. By creating a compost heap for kitchen waste you will not only cut down on your overall carbon footprint, but you will also cut down on the cost of fertilizers, as the nutrients from your compost will help your garden in a natural way. You can also consider using things like lemon rinds and eggshells as planters for seedlings.
Don't forget about the lawn! When it comes to organic waste and composting, LawnStarter Cincinnati recommends adding grass clippings to your compost pile. Especially if you're going to use your compost pile for garden soil –– it contains a lot of the nutrients that are great for plant growth, such as nitrogen for example.
When you look in a home and garden magazine it can be easy to think that a beautiful garden comes at a high price, but remember you can use your money wisely and still have beautiful results.
Image by Louise LePierres used under the Creative Commons License.
Join the Thousandaire newsletter
Subscribe to get our latest content by email.