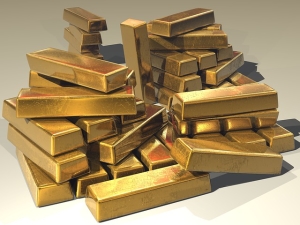 Traditionally, gold keeps its value; and therefore is considered a unique investment both in part to the rarity of the metal and the social status of the gold. If you can, try to invest around 10% of your portfolio with physical gold.  This is because physical gold is often seen like insurance, because it's worth holding onto for a "rainy day," since it's seen as a universal finite currency by most banks.
Typically, bullion may be purchased as bars, ingots or coins. They're created from gold or silver, which is why so many people choose to invest in them from banks or authorized dealers.   Bullion coins are measured for value by their bullion content, and their price changes each day, depending on the price of gold worldwide.
These tips will help make the most of your investment.
Invest in some gold because it retains gold better than your other investments. Gold is often driven more by politics than the economy and therefore retains its value during hard times. Gold helps with currency devaluations, especially in uncertain times when you're trying to save to buy a house or something. Back in the 1970s, 700 ounces of gold was worth around $25,000. That would've been enough to pay a good chunk of a house. Now that would barely make a dent, but those 700 ounces of gold are worth almost a million today.
Work with a reliable gold investor. Use caution and select one where you can buy authentic gold bullion in Brisbane and not deal with counterfeit coins or scams.  Research the company for authenticity, and certification, as well as positive reviews.
Get a few different quotes to get a feel of the current trend. This allows you to get quotes for the specific bars or coins you want, without the company inflating the price. Be wary of extra sales pitches and remember it's perfectly fine to return home and research the quote further before coming to it.
Decide if you want to invest in gold bullion coins or bars. For beginners, consider starting out slow with a few well-known contemporary gold bullion coins. However, for those wanting to invest more should consider investing in the kilo bar, which weighs 32 Troy ounces and is a popular European investment.
Treat your gold investments carefully. Purchase popular gold bullion coins, such as American Eagles, the South African Krugerrands, or the Canadian Maple Leafs. These one-ounce coins have retained their popularity with all types of investors so it's imperative that you store them safely as keep them in mint condition.
Factor in extra costs. This includes buying extra insurance for your gold and factoring in storage. Store your bullion at an independent depository that's heavily insured. Reputable ones allow you to audit your gold with 24-hour notice.
With the ever-changing economy, there is never a bad time to invest in gold bullion.