My new wife and I have decided we needed a second car. We were sharing a 2000 Buick Century with over 140,000 miles on it, and we are honestly a tiny bit surprised every time it turns on.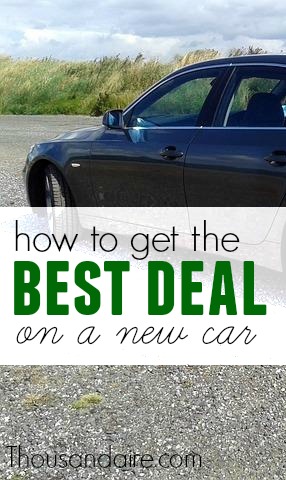 We were mainly looking at used cars, but on June 2nd it was the "last day of the month" for car dealers (well, definitely Jeep dealerships) which meant that individual salesmen, sales managers, and the entire dealership itself had one final day to meet their May quotas for new car sales.
We decided to look at a few new cars because we honestly weren't finding very many used Jeep Patriots (which is what we wanted after a lot of research) at prices that we liked.
I'll save the suspense; we bought a brand new 2014 Jeep Patriot Latitude High Altitude for $19,500, with a loan from Positive Lending with bad credit which is an absolute steal of a deal on that car.
Don't believe me? After a bit of research TrueCar.com tells me that the average sale price for the exact make, model, and trim of my new car is $22,633. And how reliable is that number? According to the TrueCar FAQ, " we have 99.1% confidence that our projected Average Paid Price per new car sale in a given week is within $20 of the average price of all nationwide sales transactions during that week."
So how the heck did I pay $3,133 less than the average person? I'll tell you.
Keep in mind, I'm no car buying expert. I'm just a guy who likes to get a really good deal. I don't know if the following method is going to work for you or not, but it might be worth a shot.
Step 1 – Wait for the End of the Month
This is simple. Car dealerships are very anxious to make sales at the end of the month. It's their last chance to increase their commissions and meet their monthly numbers, and they honestly do make crazy deals if you can wait for the last 1 or 2 days of the month.
Also remember that the "end of the month" isn't necessarily the last day of the month. In my case, June 2nd was the last day of the month for May. Don't ask me why.
Step 2 – Find the Exact Car You Want and Test Drive It
Find the car you like and test drive it at any car dealership you like. I just picked the closest one to my house, found the car I liked, and took it for a spin. I made sure to note the exact make, model, and trim level of the car. In my case the make is Jeep, the model is Patriot, and the trim is Latitude with the High Altitude package.
It's best to pick a trim that's not customized and is widely available, because eventually you want to get multiple dealerships bidding against one another and you need to make sure they are all offering the same exact vehicle.
You'll also want to do research on the car (hopefully before you get to the dealership) and make sure to know what factory incentives are being offered. For a Jeep, you'd find the information here. For another car, Google it.
The factory incentive for the 2014 Jeep Patriot this month was $1,750.
A factory incentive is when the corporate company (in this case Jeep) sends money to the dealer for selling a specific car. The information is available to anyone, but if you don't know about it then dealers won't offer them to you up front. They hope you'll pay a price that doesn't include the factory incentives, and then they can keep the money as more profit.
Step 3 – Get a Quote in Writing and WALK AWAY
We test drove the car, told the guy we liked it, and I told him plainly and honestly, "I like the car and I'm ready to buy one today, but my only concern is the bottom line price. I'm going to visit other dealerships today so I need you to come forth with your best offer."
They will give you a quote. They'll probably tell you that you're getting employee pricing and there's no way they can go any lower. Just get it in writing and say thank you. Then they'll stop you!
"What is it going to take for you to sign right now? We don't want you to leave." They might take another $100 off, or they might throw in something like free oil changes for a few years. In my case, the guy offered 3 years of free oil changes.
I told him I appreciate the offer but I need to talk to another dealer. He realized I wasn't going to sign so he asked, "If you do find something lower, will you at least give me the opportunity to match it or beat it?" I told him I would (because it was close to my house and if I was going to get free oil changes, I prefer to have the dealership close to me) and I walked out the door.
And remember, get your quote in WRITING. It doesn't have to be on an invoice, but make sure you have all the information on the car, their price, and anything else they were throwing in to sweeten the deal.
In my case, the price offered was $21,200 with the 3 years of free oil changes. This was "affiliate pricing" (which I believe is the friends and family price they offer to friends and family of employees) and then all the incentives that were being offered ($1,750).
You'll notice this is already $1,500 lower than the average sale price. They didn't want me to leave, but I knew I could get more if I could just get them to negotiate against another dealer. I took the written offer and left.
Step 4 – Take Your Quote to the Next Dealer and Ask Them to Beat It
My wife and I drove up the road a little ways to the next Jeep dealership and told them we were looking for a Jeep Patriot, Latitude trim with the High Altitude package. We got a salesman and walked the lot with him looking for a match. We didn't find any.
I was a little discouraged but he told me not to worry. If they could find the car somewhere else they could do a dealer trade and sell me the car, and they promised they could beat the original offer I had from the first dealer.
Again, I told this guy the same story. "I want to buy a car today, but it has to be for the right price. I'm going to go get a quote at another dealership after this, but you definitely have to beat $21,200. Give me your best offer."
He kept asking me tell him what I wanted to pay. It was very tempting to throw out a number like $20,000 and feel really good about myself if they took it (since it's $1,200 less than the other guys), but don't do it. I just repeated that I needed their best offer and I would be on my way to the next dealer.
They kept pressing me. "Give me a number you'd be comfortable with so you don't have to leave". I finally said $18,000. Based on my research I knew this was completely out of the question (and I told them they probably wouldn't consider it a reasonable request) but it let them know I meant business.
They did the whole song and dance of sending different people to talk to me then going back to work the numbers with a manager. The guy said he was going to see if they could do $20,000 but he had to ask.
I was ready to get the $20k in writing and move onto the next dealership, and a brand new guy sits down. He says, "I couldn't help but overhear you talking and this guy owes me a favor. If I could get it down to $19,500 would you be willing to make a deal?"
At this point I'm pretty happy because I know this is a great price, but I said, "I gave the other dealership my word that I would give them a chance to beat any price. I'm a man of my word, so let me call them and ask if they can beat $19,500."
I started with the MSRP of almost $24,000. I got it down to $21,200 with the first guys. Now I had $19,500 on the table. I called dealership number 1 and spoke to the sales manager. I asked if he could beat $19,500. After a while, he just said he couldn't do it. That was too good a price.
Later I got a voicemail from the salesman (not the sales manager I spoke with on the phone) saying he appreciated me giving them a chance to match and if the deal falls through he would love to get my business, but $19,500 was too good of a price to match or beat.
At this point I could have taken the $19,500 to another dealership and maybe gotten something even lower, but considering I was already 18.41% under the MSRP and had free oil changes for 3 years (which this dealer matched from the first one).
I was ready to buy the car.
Step 5 – Confirm EVERYTHING and Get it IN WRITING
We had finally settled on $19,500 and they started drawing up the paperwork. It's easy to get lost in this exciting time, but don't forget to get all your extras in writing.
I made sure they put in writing that they are giving me 4 free oil changes a year for 3 years. They would also give me the car with a full tank of gas. That may sound insignificant, but a tank of gas is $50 and each oil change is worth about $30. That is over $400 of free stuff that I might forfeit if it wasn't in writing.
Step 6 – Get Good Financing Rates
You might think you're done once you've gotten the sale price locked down. Unfortunately you aren't. Next they will try to get you with the financing.
I had to do my financing through Chrysler Capital to get $750 of the factory incentives, so it was important that they give me a good rate. I also had a backup option of using my credit union at 1.99%.
The first option he gave me was a loan at 3.99%. I immediately balked and said that was too high. I told him that my credit union would give me 1.99% and he'd have to come lower.
Without even a call to the Chrysler Capital group, he said he could lower my rate to 2.54%. I accepted. He probably could have gone lower because I have great credit and I was probably approved at somewhere between 1 and 2%, but he also knew that if I went with my credit union I'd forfeit the $750 incentive. I had no choice but to take the 2.54% loan.
If I didn't have a second option, he never would have brought that interest rate down. Make sure to get a rate quote before you go shopping.
Step 7 – Decline the Extended Warranty
The guy then spent a good 1/2 hour talking about how expensive repairs are going to be if the computers in the car break down. He really made it sound like he was doing me a favor by offering an extended warranty that would only increase my payments by almost $100 a month.
Don't do it.
Every new car comes with a warranty. Mine is 3 years and 36,000 miles bumper to bumper, and 5 years, 100,000 miles powertrain. The extended would have done bumper to bumper for 6 years and 72,000 miles, but it would cost about $80 a month. Over a 5 year loan that is $4,800.
He eventually came down to a $2,100 total price, but I still said no. If I want an extended warranty (which I probably don't) I can buy it once the car hits 35,000 miles and it will be a heck of a lot cheaper. One thing that is worth it though is Youi comprehensive insurance.
Step 8 – Review the Contact Before Signing
Don't just trust that everything in writing is the same as what you talked about. In my case, everything was exactly as agreed, but you have to be sure. If you sign a contract, you'll be held to it. Take your time and review everything.
Finally, once you've signed the contract it's important to understand your rights. You have signed a legally binding contract and they can't make any changes now. Remember when the Toyota dealer tried to screw me out of $1,000? These people can be very shady if they want to be.
Step 9 – Enjoy Your New Car
I hope this was helpful to some people. Again, I'm not an expert on this stuff but this was only the second time I've bought a car (out of 6) where I really felt like I got a good deal.
The data backs me up as well. TrueCar.com says I got a smoking deal, and I even see a lot of used Jeep Patriots with thousands of miles and less features listed at higher prices than $19,500.
Readers: Do you have any new car negotiation tips?
Join the Thousandaire newsletter
Subscribe to get our latest content by email.