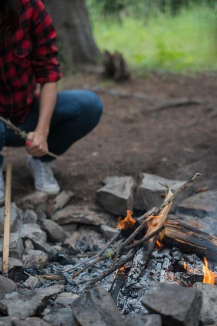 When it comes to vacations, there seems to be an assumption that in order to have a blast, you have to sleep in a five-star resort or hotel and eat at every fine dining restaurant you hear about. Getting to your destination should be equally luxurious, and an upgrade to business class is the only way to fly. The answer here of course, is heck no!
You dont have to throw away half your life savings just to go on a vacation. There are a lot of ways you can save on travel costs and still enjoy everything your chosen destination has to offer. You just need to know where to look and what services to use.
Getting There
The first thing you need to do is go check out websites like Travelocity or Skyscanner. These sites list all the affordable flights so you dont have to scour the interwebs looking for them. The prices would depend of course on where you're headed, so if there's an opportunity to for a connecting flight that's a lot cheaper, grab it. Savings is savings. You can also try your luck with repositioned flights, but these are easily gobbled up because they're listed publicly. Be wary of discount airlines and make sure you read the fine print. Some of the airlines even charge you for your carry on luggage these days.
Accomodations
If you're adventurous and love meeting new people, you can try Couchsurfing International. It's a little like Airbnb in a sense that you'll be staying in another person's home, but doing so wont cost you a thing. Just be a good "guest",  bring your host a gift and don't abuse their hospitality. This seems to work well for single travelers and couples because of the social element to the service. You can also try Airbnb if you're travelling with a large group and want a bigger place with a kitchen. The last resort would be hostels, if you don't mind sleeping in a dorm type room with strangers. Hotels not in the city are also cheaper.
Food
It's best if you can find a place with a kitchen, because this adds to the adventure of going to the local market and shopping for supplies. You'll get to immerse yourself in the place you're staying, getting to know the town or city and the locals that live there. The next best thing is to always walk around when you can, so you can find the superb cafe tucked away at the end of the street or the delightful little mom and pop diner that the locals love. Avoid going to the fancy restaurants or eating in a hotel if you can, and always look for places that offer set lunches (soup, salad, main dish, dessert) for a fixed price, especially when you're in Europe. Try to eat the delicacies on the menu that you can't eat at home. No burgers and fries!
Communications (Wifi, 4G, SMS)
Roaming is expensive, and you might get bein the shock of your life when your bill arrives after your vacation. Don't activate your carrier's roaming option and just buy a local prepaid sim card for emergencies. You can always use Skype, Hangouts or Viber to get in touch with family and friends back home. Make sure you use free wifi, or use the local 4G network if available. If you want to call someone back home, it would have to be long distance and the charges are insane!
If you're on a month long, UK vacation for example and you suddenly need to call your life coach, why not hire a life coach if you're based in London anyway? The fees for your session might be more expensive than an hour long phone call, but at least you get to try out a new style of coaching and possibly get some new insights. Who knows, it might even be a better match.
Fun
For fun, some attractions are free and some are not. Avoid the usual tourist traps that all the clueless travelers flock to, because these places are overcrowded and expensive. Find out where the hidden gems are like off the beaten path beaches, nature sanctuaries, hiking trails and restaurants by talking to the locals. This is a great way to make new friends. Most zoos, museums and parks are free (or dirt cheap) anyway, and there's nothing like enjoying a stroll in one these places. Always make it a point to do stuff you can't do at home. If there's a concert by a band you can also watch at home, why go?
FInal Thoughts
It really all boils down to the person. If a soft bed and room service is what constitutes as a fun trip for you, then by all means, splurge. It's your money anyway. But if you want to travel on a budget and still have the time of your life, that's possible too. And by most accounts, being down in the trenches is more of an adventure!
Join the Thousandaire newsletter
Subscribe to get our latest content by email.