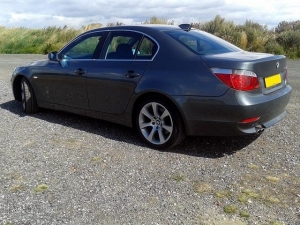 When you're heading off for a long road trip, make sure the vehicle you're going to be driving is up for the task. There's nothing worse than having car trouble out in the middle of nowhere. The potential of getting stuck is real, so it's always better to be prepared for anything.
Preventive Maintenance
A month before going on your road trip, take your car to the shop and have it looked at by a professional mechanic. Tell him you're setting off on a long trip and would like to know the status of the car's oil, filters, brakes, suspension, heating/cooling, tires, battery charge and belts. If anything is worn out, leaking or needs to be changed, have the mechanic perform all the necessary repairs in one go. This will save you time and maintenance costs, not to mention the hassle of having something blow-up on you while travelling.
Murphy's Law
Take an emergency kit and a bug-out bag with you. Emergency kits must have emergency medical supplies such as pain killers, anti-diarrhea medicine, Tums, rehydration salts, anti-inflammatory meds, gauze/bandages, antiseptic, small scissors and burn medication.
Your bug-out bag should have supplies that will keep you and members of your group alive for three days. This includes water, food, water purification tablets, a flashlight, a knife, extra batteries, a multi-tool, flares, a reflective vest, stormproof matches, a compass and a map.
Check your trunk for the jack, early warning device, tool set and spare tire. Be sure the spare tire is in good working condition and is properly inflated. Bring extra water for the radiator and a car fire-extinguisher. Check the manual. If you're driving an import or exotic and the manual is in another language, download an English version or hire an automotive translation service. I know this is a lot, but if something does go wrong, these steps can save your hide.
Eyeball your Vehicle
Now that you have all you need to survive a mishap, make sure you don't get into one in the first place! Two weeks after having your car checked by a professional mechanic, eyeball her for any physical issues. Check the tire pressure and wear. Check all the lights and electrical components like blinkers, sound system, GPS, etc to see if something isn't working. Check the wiper blades for issues with visibility and change them if needed.
Drive your vehicle and be on the lookout for any leaks and weird noises. If the engine is revving more than it should during idling, have it checked ASAP. If you feel that it lacks the power to pass other vehicles or if it's struggling and put-puttering, bring it back to the shop. If you're all over the place when you're going fast, the steering is off-center and needs to be fixed. If you veer either to the left or right, it's an alignment problem.
Loading Up
Be sure to take only what you need with you. You won't need snow chains and ice skates on a trip to Florida, so take it out of the trunk. Balance your luggage and passengers so that both sides of the car will have more or less the exact same load. Never load up the vehicle and passengers more than what is indicated on the manual. When in doubt, check the side of the door. Newer vehicles will have information regarding tire pressure and load capacity stamped on the side.
Happy Trails!
Wherever you're headed, make sure you follow the steps I outlined here so you can avoid any road problems and have a safe, fun trip. Just in case you do run into some trouble, being prepared and having the emergency kit, bug-out bag and extra supplies with you can save your life and the lives of your loved ones. Drive safe!
Join the Thousandaire newsletter
Subscribe to get our latest content by email.