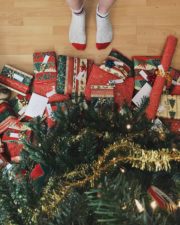 It's the most wonderful time of the year, yet it's also one of the most financially stressful times of the year. Christmas shopping is rarely affordable, and many families find themselves in a financial bind when the New Year arrives. It's not exactly fun to find yourself paying off credit card debt for the rest of the year, but you want to make sure your loved ones have the best holiday. Holidays hopping is expensive, but it doesn't have to be. Procrastinating makes it more expensive, and that's why you need to plan now, shop right away, and make room for an affordable, cost-effective holiday season.
Start with a List
It seems simple enough, but you probably have no idea just how beneficial this is. How is a list going to save you money? How many times are you finished Christmas shopping when you suddenly realize you forgot a few people? Now it's the last minute, and you need a gift now. There's no time to shop for a great gift and a great price, so you pick up something over-budget to make up for lost time. It happens all the time. The more people you miss, the more you go over budget. Make a list, and pull a Santa Claus by checking it twice. When you cross people off, you'll be able to finish your shopping within budget.
Buy All Year
One way to shop efficiently and effectively for Christmas is to shop all year. If you have kids, this is easy. You see a toy that they want on sale, pick it up, and store it until Christmas. This works well for clothes, too. Find their holiday clothes on sale when the holiday season is over this year, buy them in the size they'll be the following year, and you've saved money. You can pick up items all year you need to complete your shopping list, and this usually means finding amazing sales along the way.
Join a Savings Club
Ask your employer if there is a program in place for holiday savings. Many businesses have a Christmas Club program. This is a program that allows you to allot a certain amount of money to come from each paycheck directly into a savings account through your work. At a designated time before Christmas arrives, your employer disburses a check to employees who participate in this. If you save only $50 per check during each of your 24 yearly paychecks, you're getting $1,200 to spend at Christmas.
Buy One Gift Per Pay Period
Another great way to save throughout the year is to buy one gift for people on your list with every paycheck. Say you allot $25 per check to buy gifts for the people in your life. Do this, put them away, and see how many people you can cross off your list as the year goes on. The best thing about this is you have only a certain amount of money to spend each time you get paid, so you'll always stay in your budget. That makes life a lot easier during the holidays.
Shop Around
No one likes to go to multiple stores looking at the same item, but the internet means you don't have to do that. Instead of walking through the entire mall or driving around from store to store comparing prices, look items up online. There are smartphone apps you can use to help with that, too. All you have to do is look up the item you want to see if it's less money anywhere else. It's helpful when it's on sale in one store and you're in another.
Use Cash Back Apps
Apps like ebates make it easier for you to save money when you are shopping for Christmas gifts. You can shop online like you always do but when you use this portal, you get to earn cash back. It's easy to use, and many stores offer high cash back rates on their items during the holidays. It might not seem like much savings here and there, but it does add up to a nice payday when you do most of your shopping online.
Find More Money
When saving isn't enough to afford you a nice Christmas, it's a good idea to start looking for more money in other places. Cash in your change, sell things you no longer need, or see about short-term online title loans you can pay back after the holidays when you have a bit more cash to spare. These methods allow you to buy what you need for Christmas now when you might not have the money on hand, but you know you will have it in a month or so. These options are always available to most anyone who has the time and energy to dedicate to putting forth the effort.
Christmas shopping can get out of hand when you don't set a budget, so be sure to do just that. Make a decision right away how much you can afford to spend, divide it by person, and stay on track. Christmas is about being together, spending time with loved ones, and celebrating a miraculous birth. Gifts are nice, but they certainly needn't be over-the-top to be beautiful. Think creatively, and you'll be surprised just how much people appreciate what you have to offer.