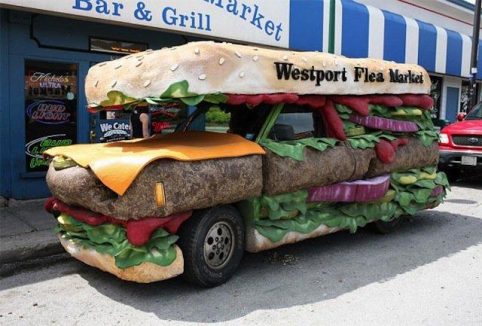 As a food truck owner if you dive into the fascinating world of social media, you would come across all sorts of channels and platforms, each boosting their own advantages and drawbacks however one particular platform would  catch your immediate attention; Instagram. It seems that Instagram was made for the food industry and it is specifically tailor made for food trucks. Instagram is now a monster which if unleashed properly could aid you in propelling your fan base. Newly incorporated features such as advanced metrics, business insights and bulk scheduling empower you with control like never before.
We'll kickoff with a seemingly obvious hack- try persuading a food blogger or a seasoned foodie to post about your truck. You cannot underestimate the uncanny power of food bloggers on Instagram; these guys are ruthless when it comes to food, as they could shatter a spot's reputation with a single post. Since they are driven by their followers, who tend to follow them religiously, henceforth it is important for you to always be on a good side of a food critic or a blogger. Search for someone who could influence your potential customers and whose word is valued by the masses. You could also ask bloggers to share their fan list and you could utilize it for your future marketing stints, remember DM's could be super effective in this regard.
Running contests is another hack which could not be ignored, people from all walks of life tend to follow handles which offer them engaging posts, and nothing could be more engaging than food contests offering free meals. These contests not only help you engage your existing fans base but also assist you in attracting new customers, as people invite their friends and this turns intoa a WIN-WIN situation for both you and your customers.
Instagram is all about pictures and appropriate hash tags, these two things go hand in hand on this high-end platform. You as a food truck owner should try to leverage from this situation and should utilize this platform for launching new dishes and cuisines, you would be startled to observe the output of mere 'foodporn' hashtag. Remember no one has time for reading long descriptions but everyone likes to comment and share a nice food photograph. However in order to reach out to a copious amount of people you need to use hash tags smartly and efficiently.
Scheduling tools and linking methods are crucial for social media marketing; sadly Instagram is built for spontaneous posting and hence does not allow bulk scheduling. However you could still use few third party apps for bulk posting, there are several applications which offer such services, so be smart and choose one which  bestsuits your needs. Instagram only allows a singly link in bio and this where things really take a nasty turn for food trucks, since you want to add multiple links so you need to seek help from third party applications who would help you set multiple links in descriptions. If you don't have a food truck yet, you can check amazing offers at: https://www.usedvending.com/used-food-trucks-for-sale.php
Join the Thousandaire newsletter
Subscribe to get our latest content by email.