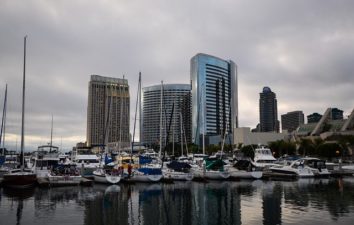 In an effort to keep crime at bay, San Diego County participates in the Crime-Free Multi-Family Housing program. Proponents of the program say participation can be a useful marketing tool for landlords who own properties in areas with higher incidences of reported crime. Among issues facing landlords in San Diego, the decision to participate in the program is a significant one.
Participating landlords are required to attach an addendum to their lease agreements binding tenants to agree to maintain crime-free lifestyles. Landlords typically supply a list of house rules, violation of any of which can be grounds for eviction. Further, if a tenant's guest is convicted of a crime on the property the tenant will face eviction.
Landlords are also required to supply enhanced physical security features such as better lighting and entry control, as well as undergo management training including how to screen for better tenants.
Administered in San Diego County by the Sheriff's Department, cities with participating complexes include Borrego Springs, Fallbrook, Cardiff by the Sea, Solana Beach, Encinitas, Poway, Ramona, La Mesa, Spring Valley, San Marcos, Santee, Lakeside, Valley Center, Vista and San Diego. While participation is voluntary in most places, some communities have voted to make it mandatory.
San Diego property management professionals tend to favor the program, as it has proven successful at keeping illegal activity out of rental properties. According to the San Diego County Apartment Association (SDCAA), calls for police service to crime-free certified properties drop significantly in the months following manager training. For this reason, the SDCAA supports voluntary participation in crime-free programs and considers them an effective way to turn around properties with troubled pasts.
In June of 2016, the City of Vista adopted an ordinance requiring complexes with a high number of police calls to join. Under the ordinance, properties with 10 or more units who have experienced fire or law enforcement calls equaling 25 percent or more of its units in any two separate six-month periods within an 18-month time frame will be investigated to determine the nature of those calls. If they are crime and/or nuisance related, the complex will be required to participate.
According to the SDCAA, mandatory participation includes:
The owner or manager must attend an eight-hour training session
The mandated crime-free lease addendum must be employed and the landlord will be required to submit a lease addendum tracking sheet
Annual tenant meetings addressing crime prevention must be held with a minimum of 25 percent of the units having an adult in attendance and a plan for tenant outreach must be submitted to the city
A Crime Fee Multi Housing Certification Application must be submitted
The landlord, or their agent must meet with Crime Prevention to review the certification process to ensure compliance
The name of the responsible party for the premises must be prominently posted at participating complexes
Calls for law enforcement or fire department service below the triggering threshold must be maintained for 48 months
Annual program fees are also mandated as follows:

$850 for 10-50 units
$1000 for 51-100 units
$1250 for 101-200 units
$1500 for 201 units or more
It should be reiterated; joining the program voluntarily is free of charge. But if it is mandated as a result of excessive calls, the fee structure outlined above will apply. The ordinance is slated to be reviewed in June of 2017 and will cease to have effect, unless the city council renews it.
Check out some of our popular posts for more:
Save More Money in 2018
Subscribe and join the worldwide 52-week money challenge! Get the tools you need right to your inbox.