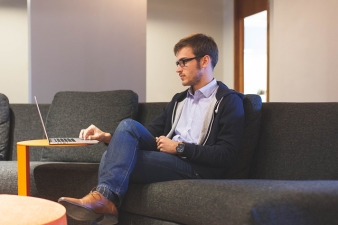 As most of you know, I have a staunch belief that it is possible to earn money from anywhere in the world with just your laptop, oh and an Internet connection of course. Having left my job to start my own freelance business and travel, I'd like to think that I'm the proof to the pudding, but there are plenty more 'make money from your couch' opportunities to take up if you have the courage to try. Below are just a few:
Start a Blog/Website: Even if writing isn't your forte, there are plenty of blogging styles for anyone intrepid enough to try. From your typical writing platform to Community Forums and Social Platforms like Twitter, to Video Journals and Image Blogs which require little to no complex scripting, there is something for everyone.
Earn Money on your Everyday Purchases: Sites like Quidco and TopCashback offer anyone the ability to save money on their normal purchases. From supermarket shopping to insurance renewals and of course travel expenses, you can earn up to 25% back which combined can save a reasonable amount per month without any deviation from your normal spending habits and days.
Dabble on the Markets: While this is a riskier alternative that we'd recommend researching before you try, spread betting and trading sites offer a chance for you to bet on everyday changes to commodities like Oil and Gold or Currencies like the Dollar and Pound.
Review Products: There are thousands of websites online offering you the chance to get paid for your opinion or review a product/selection of products. From health supplements to toys and games, many of these can be sent directly to you so there's no need to even leave the house.
Sell your Unwanted Stuff: The reason that sites like eBay and Gumtree have flourished so much is the demand for second-hand goods. If you have anything lying around the house that you no longer use, don't wait till it becomes antiquated and list it for free on one of their regular 'Free Listing Days.'
While there are certainly more options to explore, this should be a nice selection to start on. Please feel free to check out our other money-making articles and comment on this one below.