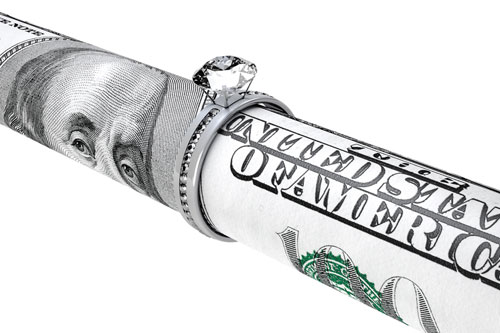 No matter how it happens or who is involved, divorce is the epitome of complicated, and navigating the financial waters before, through, and after takes patience and preparation. Smoother transitions are often the result of meditation, instead of fighting in court, and the calculation and division of assets as early as possible is helpful in ensuring time and money aren't spent in vain on avoidable obstacles.
After the 50/50 division of property is said and done and you are through dealing with your divorce attorney, many divorcees find themselves adjusting to a new lifestyle accompanied by lower income, without a plan for it.  In reassessing what is essential, it can often become necessary to strategize about how to bring in extra income to recoup the cost of newly single life.
Sell your Jewelry
Laws vary by state but if you are legally entitled to sell your diamonds, engagement rings or jewelry, it is a great way to generate money. Companies such as WP Diamonds offer a seamless process where an appraisal and competitive offer for buying back luxury accessories can be helpful. The catharsis of starting again and not being held down by sentimental pieces from the past can help you move on, funding the capacity for replacing jewelry and watches with something new—a gift for yourself that symbolizes new beginnings.
Ask for a Raise
Whether child support payments, a significantly reduced income or increased financial responsibility are the issues after a divorce, the situation is rarely easy on the wallet, unless both parties have a significant amount of money saved or earned on the work front. Particularly in cases of emotional abandonment, such as cheating, it can be helpful to focus energy on non-family related activities, such as excelling at work.
Maintain balance and build your career by delving into work and impressing your boss, ultimately setting up the perfect scenario to ask for a raise.  Why is it a good time?  You've proven you work best under stress, and your new unattached life will prove easier for showing your drive and flexibility to the workplace. So go ahead and be the best, then ask to reap the rewards of your labor.
Donate Wedding Mementos
After divorce the line that defines what should be a keepsake for your children can become very ambiguous. Women will often save their wedding dress, wedding shoes, and wedding rings to pass on to their daughters, secretly wishing one's little girl chooses to wear at least one of those pieces for her own wedding day.
The reality is that painful memories associated with a divorce, might be something she associates your wedding mementos with in the future. Therefore, it makes perfect sense to donate these items for a tax deduction at a Goodwill, Salvation Army or local thrift shop.
Freelance
Juggling full custody with one less hand to help? The responsibility can be staggering when the desire to spend quality time with children meets the reality of needing to stay financially afloat. For those considering a career shift, freelancing offers a variety of benefits, such as flexible hours and the ability to work from anywhere.
Websites like Elance connect opportunities to qualified freelancers in industries such as: IT, video, marketing, translation, writing, product design and customer service.  Freelancing and working from a local coffee shop or library also provides an opportunity for meeting new people outside of the usual social circles, which can have a positive impact while healing.
Ultimately, the progression between previously married back to single life should aim to be done as easily as possible, and tackling expenses creatively is a mature outlook. Think-outside-the-box financial options can make the process a healthy transition for both divorcees and their children, who need support in getting through a difficult time.
Join the Thousandaire newsletter
Subscribe to get our latest content by email.