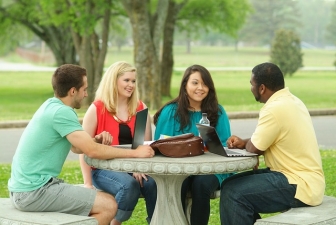 If you own property near a university or college, you've no doubt observed an influx of students come each fall. If you're thinking about renting out your home or a room to the bevy of students that live in your community, there are many facets to consider first. Some statistics report that homes in college towns can pull in 30 to 40 percent higher rents, especially if rented by students, meaning huge increases for your bottom line. High reward comes with high risk, however. Read on to find out if you should rent out your property to college students.
Consider Co-Sign Agreements
Most college students aren't minors, so cosigning agreements aren't a necessary part of the rental process. However, this safeguard might be one to consider. College students are unlikely to have a credit history of any sort, and oftentimes, their parents are responsible for the rent. Having a parent's name on the lease further ensures you will be able to collect past-due rent, especially if the student decides to cut and run at some point during the contracted time.
Tenant Screening
If you do decide to require a parental cosign agreement, run a tenant credit check on both the student and their parents to ensure every base is covered. Beyond giving you a green light for good credit, checks like these can determine former evictions and provide information on previous criminal convictions.
Lease Customizations
Renting to college students can be a different experience than the usual tenant, and as such, there are many lease considerations you'll need to think about. Enforce joint accountability for all tenants staying in the home; should one move out, the tenants still there will be responsible for making sure the rent is paid in full, regardless of whether the former tenant left money or not. College students have a rowdy reputation, and you'll want to protect your rental from damages beyond just the normal security deposit. Make it clear in your lease that any and all damages inflicted by the tenants and their guests will be liable for charge. Another lease provision to consider is strict noise regulation. If your tenants will be having guests over and are reported for noisy, obnoxious behavior, multiple calls to the authorities could result in a hefty fine from the police.
Subleasing is a common occurrence when you rent to college students, as they're often gone for three months during the summer, or studying abroad. If you do decide to allow for subleasing, lay out the specific rules that must be followed within the lease. Require that any sub-leasee go through the same screening process as your current tenant, and possibly charge a one-time fee for the trouble. As your lease will require further customizations, consider speaking to a real estate attorney to ensure everything is order and that you're protected.
Property Managers
If you'd rather not deal with the ins and outs of renting to college students, consider hiring a property manager. They can handle the face to face interaction, deal with any eviction issues that come up, and will be well-versed on city regulations. If you do live in a city with a large college student population, property managers will have likely rented to and dealt with similar situations before, making them one of the best resources to utilize for your situation.
Property Rules Cheat Sheet
Regardless of the provisions included in your lease, don't expect younger tenants to automatically refer to these documents whenever they have a question regarding behavior and house rules. Create a property rules cheat sheet that hangs in the rental with common questions and conduct codes, available for reference when they need it.
Legality Issues
There are many legality issues to consider when renting to college students. You'll have to follow fair housing laws, which are state and federal regulations that prohibit discrimination based on religion, race, color, handicap, national origin, and familial status. While age isn't specifically mentioned, discriminating based on this facet may easily fall under the familial status protection.
Beyond state and federal regulations, there are also city ordinances you should be aware of, specifically local zoning laws. While college houses are often crammed full to cut down on rent costs, there are city limitations on maximum capacities. Be aware of these limitations and make sure your tenants know these rules are city-enforced.
Join the Thousandaire newsletter
Subscribe to get our latest content by email.