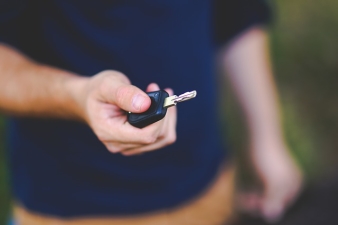 So you're addicted to Uber. Well, why not? As compared to a standard taxi service, there are a number of added benefits. It makes digital payments (and receipt tracking) so much easier, you get more up-to-date information on how far away your ride is, and passengers can give feedback to the company by rating a rude or dangerous driver.
Best of all, Uber can be more affordable than the standard taxi fare. But that really depends on knowing how to work the system. There are a number of tips, tricks and general strategies that those new to Uber will want to learn ASAP to help them get the best possible pricing for their ride. In this mini-guide we'll cover the most important of these techniques so you can quickly maximize your Uber dollar.
Leave Taxis Behind!
Through a combination of good timing, Uber coupons and credit card rewards, you can always manage to get a good price. Certainly a better one than the standard taxi can offer!
New Customer Sign-Up Bonus
If you've yet to create your account with Uber and take your first ride, we've got good news. New riders can take advantage of a promotion that gives you your first ride for free! At least up to the first $22 of the ride, which is where the promotion caps out. Still, that should be enough to take you between destinations in most cities.
Check Uber's website for the most recent promo code, as it changes from time to time, or find current coupon codes from Coupon Sherpa. Then, when you are creating your new account, just enter the promo code when you are prompted for it. Book your first ride, and when payment comes due, the promo amount will be applied instead. Just be aware that the promo credit does expire after a while, usually at the beginning of the next calendar year.
The Uber Referral Program
Once you've got an Uber account up and running, check out the Invite tab at some point. You'll get a unique alphanumeric code that you can pass on to interested friends, family and co-workers who have not yet signed up for the service. When they sign up, they enter this referral code of yours when prompted, and you get $20 in credit deposited to your account for each successful sign-up!
This code doesn't clash with the sign-up bonus either, so don't worry about causing them to miss out on that. These referrals are theoretically unlimited, but be aware you have to use the credit within 30 days of receiving it or you lose it.
Keep An Eye Out For Coupons
From time to time, Uber will release promo codes that give you a certain amount of money toward a free ride. A good place to keep track of the most recent codes is at a ridesharing news site. These promo codes usually change monthly, so it's worthwhile to check in regularly and see what's new. You may also sometimes see codes that are specific to a city, a state or a country.
Pay With Partner Credit Cards
Uber has partnered with a long list of different credit card companies to offer bonuses when you pay for your ride with their card. Listing them all here individually with their unique terms and benefits would be far too long to be practical, but basically the way it works with each card is that you first need to link it to your Uber account as your automated form of payment. Each time you pay for a ride, you'll get some sort of a bonus. Some cards will give you extra rewards points for what you pay on each ride, and some will give you a cash back bonus for certain amounts of qualifying rides. Certain cards also give an automatic percentage discount on each ride, up to 20% or so.
Both the partnerships and the promotions change over time, so it's always good to check on your different cards and see which one offers the most advantages. It's also important to consider your usual patterns of Uber use and which card's set of benefits matches up the best for you. Select types of VISA cards offer these enhanced rewards, but Uber also has a partnership with American Express that makes some form of bonus available on many of their different cards.
Know The High-Demand Times In Your Area
When you're trying to maximize your Uber dollar, the most important thing to know about is surge pricing. Basically, this is the "supply and demand" aspect of the service, and it's the one downside as compared to a standard taxi service that has to comply with local pricing regulations. When demand is low and lots of cars are available, you can get a great price. When demand is high and most of the cars are spoken for, however, Uber goes into "surge pricing" mode. The price spikes during this time can be huge, as much as 10 times higher than normal during the most busy times of the year.
The good news is that surge pricing is fairly predictable if you know the patterns of your local area. If you're traveling through a city's downtown, the opening and close of business hours are likely to get surged, especially if it starts raining. Weekend nights when everyone is stumbling drunk out of the local clubs is also a potential surge time. Major holidays are usually the most expensive, however, as well as the times that major events are going on.
The "fare quote" feature is your best friend when demand is high. You can get a close idea of what price you'll be paying before you actually commit to a ride.
Chad Fonger has been driving for rideshare companies for many years including for services such as Lyft and Uber. He strives towards sharing his experiences and helpful information with his popular comprehensive blog, which goes in-depth about the dynamic and ever-growing rideshare industry.