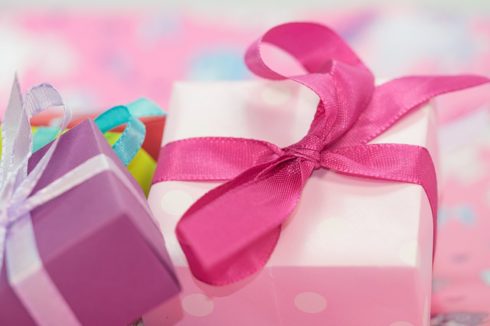 Looking for affordable gifts? Look no further than this list.
A Personalised Chopping Board: A personalised chopping board to cut on makes the perfect low budget gift for any occasion.
A Personalised Engraved Shot Glass: This makes the perfect birthday gift for a birthday boy or girl who's going out drinking.
Personalised Is It My Birthday Yet Book: This is an adorable gift for young children and a hilarious gift for adults.
Bath Bombs: Bath bombs come in a variety of different colours and scents and make bath time fun for everyone.
Soaps: Find soaps that are made from all natural ingredients.
Bubble Bars: Want bubble bath the natural way? Try bubble bars.
Bath Oils: Bath oils will soften the skin and make whoever is bathing feel like they're floating on a cloud.
A Chocolate Gift Set: Who doesn't love chocolate? A chocolate gift set is perfect for sweet toothed people.
Personalised Mugs: Nothing says "I love you" like a mug that is personalised.
Personalised Glasses: Personalised glasses make the perfect gift at formal events.
Photo Frames: Everybody needs photo frames, but nobody ever buys them for themselves.
Scented Candles: A scented candle is a foolproof gift that everyone will love.
Books: Whether it be a thick novel or a coffee table book, books are the gift that will make your friends smarter.
DVDs: If they're not big readers, skip the books and get them a DVD instead.
Video Games: If they have a console, buying them a new game is sure to make their day.
A Phone Cover: Phone cover fashion changes like the seasons, so make sure your friends and family have the latest trends.
Throw Pillows: Everybody loves throw pillows. They tie a room together and makes it feel grown up.
Journals: There's little more satisfying than the first entry in a new journal.
Stationary: Well, what are they going to write with in the journal?
Plants: A small cactus or a houseplant makes the perfect gift for people in your life who can keep things alive.
Cutlery: Tea spoons and dessert forks disappear almost as often as socks, so giving your friends and family new cutlery will always be appreciated.
Wine: Pick a good year and slap a ribbon on it. If you want to make the gift even better, combine it with chocolates.
Personalised Cheese Platter: What's better than owning a platter specifically for cheese? Having a personalised platter specifically for your cheese.
Fondue Set: Nothing is more fun and more dangerous than having a fondue party. Be sure to only give this one to friends that aren't likely to accidentally burn themselves.
Fabric Napkins: Cloth napkins make a dinner party instantly feel ten times fancier than paper napkins, so they're an essential.
Check out some of our popular posts:
Blue Apron review
Joe Biden's net worth is embarrassing
How much does Invisalign cost?
Join the Thousandaire newsletter
Subscribe to get our latest content by email.