I love my Android phone and tablet. If you don't have a smartphone or tablet, today's post isn't for you (at least not the beginning).
Today I want to talk about some of my favorite personal finance Android apps. This was one of the many suggestions I received from readers yesterday. Keep sending in those requests on Tuesday nights to my twitter and facebook; you guys never disappoint me!
4 Cool Personal Finance Android Apps
I can't really give a "Best Android Apps" list because I haven't tried them all. I'm just going to tell you about the ones I use and how I like them.
Please note that if you are going to use apps on your phone that access your financial accounts, please make sure you have a good password to get into your phone. You don't want to leave your smartphone at a restaurant and then allow some stranger to find it an have all your financial info. A strong password is very important!
Mint.com
I do my budgeting with Mint.com after I recently realized it's so much easier than my custom spreadsheet. It's also nice to have access to my net worth and transactions at any time on my computer. Now with the Mint.com Android app, I have all that information at my fingertips whenever I have my phone.
The smartphone version of the app is alright, but the tablet version is really great. There are all kinds of graphs and different ways to display information in the tablet app. I highly recommend getting this if you use Mint for your budgeting.
WikiInvest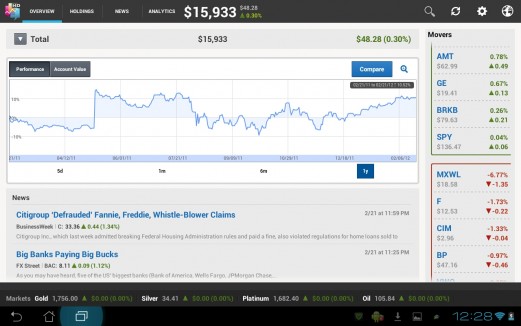 If you do any investing, WikiInvest is a must have for any tablet. Think of it like a Mint.com for your investment accounts. It pulls in all the information from your different accounts and gives you charts and graphs on performance. Just look at that picture above. I can't believe how much information is at my fingertips in that application. It has all the graphs I could possibly want and gives me news information on all of my investments.
There is a smartphone version of the app, but I have only used the tablet version. From the pictures I've seen of the smartphone version, it does a lot of the same things but just doesn't look as pretty.
ShopSavvy
ShopSavvy allows you to scan a barcode at a store and the app will search the internet and other local stores for that product. The app will show you if you can get that same product cheaper somewhere else. This app will make sure you never miss out on a better deal at another store.
GasFinder
This one is really simple; it tells you where to get the cheapest gas. If you want to save a few pennies on your next fill-up, get this app or another like it.
That's It!
Those are the main apps I recommend. If you have a killer personal finance app on your phone, please share it in the comments below so everyone else can read about it! Now it's on to the other questions.
My First Paycheck
I hate to disappoint anyone who thought I might have done something really sexy with my first paycheck. My first paycheck from lifeguarding at 15 years old went to paying for my 1962 Chevy Impala POS. In fact, pretty much every dollar I made during high school went into that stupid car.
Fast Tax Refund
There's a pretty simple trick to getting your refund quickly. File your taxes quickly and sign up for direct deposit. My girlfriend Tag is already done with her taxes because they are so simple. I have some work left to do because I need to calculate my investment gains. I mean losses. Oops.
Time Spent on Facebook and Twitter
Question: How much time does the average person spend on Facebook and/or Twitter?
Answer: The answer is definitely too much time on those sites and not enough time on http://Thousandaire.com 🙂
Styrofoam vs. Paper Cups
I'm personally a fan of the paper cups. I know they get all sweaty after a while, but I have a weird thing about Styrofoam; it feels strange to me. Kinda gives me the chills. It's almost as bad as cotton balls, which literally make me cringe any time I hold one. I know, I'm weird.
Overcoming Writers Block
That's easy. Just ask my readers (who happen to be the best readers in the world!!!!) to give me stuff to write about. Works every time! And don't forget to tell me what to do next Tuesday night. I'm almost always taking requests.
Join the Thousandaire newsletter
Subscribe to get our latest content by email.