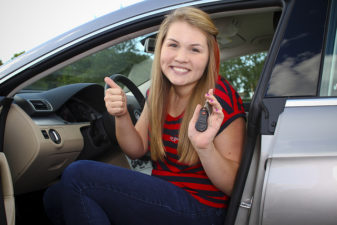 If you have a pristine driving record, it's comforting to tell yourself that your distinct lack of accidents is a main determining factor behind your auto insurance rates. On the flip side, a long list of claims resulting from traffic violations probably has you hoping that other factors matter more than your driving record. While your driving history does play a fundamental role in determining your auto insurance premiums, or even whether a carrier will accept or keep you on as a policyholder, there are other elements at work when it comes to how much you'll pay for coverage.
A 2015 Consumer Reports study analyzed over two billion car insurance quotes from 33,419 ZIP codes around the United States and found that socioeconomic factors play an increasingly important role in determining vehicle insurance rates. Credit history and other consumer choices are fair game for providers' algorithms to score and assign a subsequent value. Many of these factors are also reflected in where and how drivers live, making geography and lifestyle very relevant to the discussion.
If you're a resident of the Lone Star state and wondering how your rates stack up based on your mailing address, keep reading to learn more. They say that that everything is bigger in Texas, but as it turns out, the premiums quoted for these four ZIP codes buck that trend.
Four of the Cheapest Places in Texas for Auto Insurance
Dallas News broke down some of the most recent data available: a study by CarInsurance.com that determined the cheapest car insurance rates for drivers in Texas. Examining these locations, one can't help but notice their small sizes and relatively rural situation. It's a noted tendency for rates to be higher in cities due to higher risks of accidents and theft, plus longer commute times with more people on the road. The opposite is true for less densely populated areas with fewer people on the road and fewer traffic jams, as illustrated by these areas. The four cheapest quotes for locales in the state based on the 2014 model year Honda Accord used in the study were as follows:
San Angelo, TX (76901): With an annual average of $1,138 per year, residents of this city of about 100,000 people in western central Texas paid the lowest rates in the state.
Winters, TX (79567): Winters is a town of around 2,000 people located in the middle of the state. Average cost was $1,167.
Wall, TX (76957): Wall, TX is not incorporated. Situated outside San Angelo, the last estimated population count was 200 in the year 2000. The average policy cost was just $1,170.
Presidio, TX (79845): Presidio rests on the western border between Texas and Mexico on the Rio Grande. Its population is slightly northward of 4,000 people, and the study found that the average auto insurance cost was $1,175.
The Flip Side
Based on this information, it's not difficult to guess which cities might yield the most expensive auto insurance rates throughout Texas. The highest was Houston—ZIP code 77091—with an annual insurance quote of $1,816. Dallas, San Antonio, and Austin followed closely behind.
As far as car insurance in Texas goes, drivers are legally required to carry a minimum amount of liability insurance, although many drivers opt for more comprehensive coverage to protect their vehicles, themselves, and others using the road. While it's not feasible to simply pick up and move to one of the places with the lowest rates listed here, you can diligently shop around and get a good rate for your ZIP code, and try to improve your credit score to positively affect how insurance carriers view your standing no matter where you call home.
Check out these posts:
Save More Money in 2018
Subscribe and join the worldwide 52-week money challenge! Get the tools you need right to your inbox.