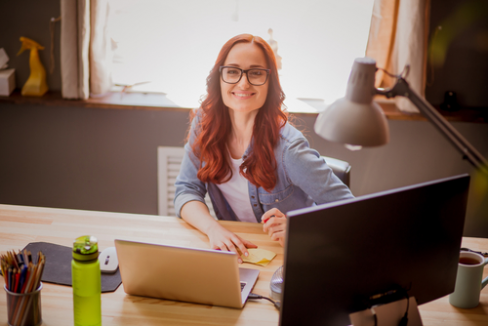 Over the last decade, technology has been paving the way we interact, learn and do business. In fact, over 44 million Americans have a side hustle for extra income or to use it as a stepping stone for their dream job. Whether you're an entrepreneur, a business owner or just looking to improve your side hustle game, you can use technology to reap the most rewards for your hard work. Let's take a look at four ways to use technology to your advantage and become a real Income Artist.
Work On-The-Go
The great thing about technology is that it allows you to work from virtually anywhere in the world. If your side hustle deals with social media, advertising direct-selling or any other form of marketing, then you know that having technology at your fingertips is ideal for your side business. Companies like Amway, for example, have a direct-selling platform that allows you to sell health and beauty products globally without stepping foot in an office. So for this type of gig, having a phone or laptop handy allows you to connect with your clients any time or day no matter where you are, build a strong online presence, handle and receive orders, sell products on mobile devices and offer instant support to your customers. Technology has been able to positively change how you reach your clients and in turn allow you to make more connections — and more sales!
Stay Organized
Forget your pocketbook, calendar, rolodex and piles of paperwork. Tablets and other new smartphone technology have allowed businesses and entrepreneurs to have all of those things in one device. Having an all-in-one device to is key for a smarter and more efficient way of doing business. Smartphones allow you to check your email instantly and make business connections and transactions to happen right from the palm of your hand! If you have a career and a side hustle, then technology like tablets can help you keep the two separate and stay organized.
Add More Skills to Your Resume
That's right, technology has given us the power to tap into a plethora of new skills and talents. Perhaps you have your own online business and want to save money by doing your own marketing or web design. The internet allows you to brush up on your skills or learn something completely new instantly. You can take intro courses for a variety of helpful technical skills like WordPress, Marketing 101, Code School, Google Analytics and many many other web development classes. Especially if your goods and services deal with helping other businesses, then it never hurts to add even more niche skills to your resume.
Brand Yourself
Not only do you want your business to thrive, but you want people to know who are too. Traditional networking and face-to-face interactions are priceless, but social media platforms like LinkedIn, Facebook and Twitter allow you to reach and connect with even more people. By having a strong online presence you'll be able to build a solid reputation for yourself and expand your network to other entrepreneurs, current and potential clients and other businesses.
The world is changing, and with it the way people do business is changing too. Because of this, consumers are shifting their focus almost completely online for buying goods and services fast and easy. Use these four ways to take advantage of technology for a more lucrative, successful side-hustle or full-time career.
Join the Thousandaire newsletter
Subscribe to get our latest content by email.