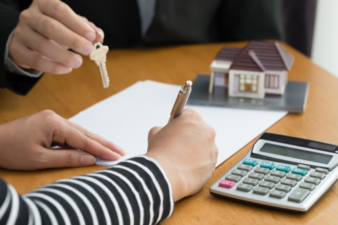 Buying your first home is an important process that will have financial and other ramifications that will last for many years. While it can be one of the most exciting and rewarding times of your entire life, it will also be one of the most stressful and terrifying. It means the beginning of a new chapter in your life, but that also comes with some big responsibilities.
Perhaps the most important aspect of the home buying process, getting your first mortgage can also be the most daunting financial challenge you have faced so far. The beginning of the process is the financial equivalent of a complete physical exam, and it takes a thorough look at your entire fiscal life. Since you are new to the process, you are probably going to encounter some surprises along the way as well.
This guide is designed to help prepare you for what the mortgage process includes and what you need to consider before getting your first mortgage. Through education and preparation, you may be able to keep the surprises to a minimum and end up with a great loan that fits your budget and your dreams for the right home.
Understanding your credit score
While there are several factors that lenders look at to determine what you qualify for and your interest rate, your credit score may be the most important for first-time home buyers. If you are young and do not have much of a credit history, this can prove to be more difficult than you may have expected. But you will need to get a firm grasp on each of your credit scores, what factors influence them and what you can do to improve them.
2. Be honest with yourself
Before you can take any steps in the home buying process, you need to take the most thorough examination of your finances that you have taken to date. Most importantly, this needs to be a realistic, honest look, as you will only be hurting yourself and your family for many years if you try to fool yourself into thinking you can afford more than you really can.
3. Take advice from family and friends
Even though you do not have experience in home buying, you likely know many people who do. These people can provide tons of advice that is both helpful and free. They will also know area-specific information that is not always easy to find, such as how mortgage loans vary in each state and which real estate agents are the most trustworthy.
4. Make a meaningful down payment
Unlike many items that are bought on credit, buying a house involves a large down payment which can take months or even years to save. While many lenders offer mortgages with no down payments for first-time buyers, you need to be aware of how this will influence your monthly payment.
5. Be prepared to adjust
If you are new to world of mortgages, it can be very upsetting to spend months looking at $300,000 homes, only to find out that the bank is only willing to finance $200,000. Even if you have done all of the necessary budgeting, calculated everything perfectly, kept your credit pristine and taken all other steps to improve your chances, you may still be surprised. However, different lending institutions may have different guidelines, so you also should not give up if things do not go smoothly at first.
Join the Thousandaire newsletter
Subscribe to get our latest content by email.