If your accounting software isn't easy to use, it's useless – here are some tips for how your accounting software should make your life easier.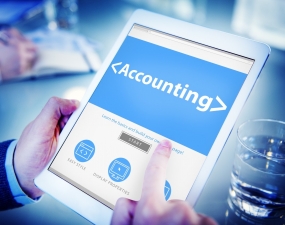 Ease of use is a key element of good small business accounting software. The reason is plain and obvious; most small businesses are small in size, with few people to do a lot of tasks. Time to spend on an extensive learning curve tends to be rare to non-existent. The software should, as nearly as possible, run well from the start with minimal advance user preparation. Most small business managers that act as bookkeepers and perform an accounting function do not do it by choice, but by necessity. These are vital functions, and the business would likely nor continue nor grow without them. However, in small business environments these tasks often take time and personnel away from the main business.
Accounting for Non-Accountants
The mantra of most small business managers is that I am not an accountant. The overall mission of most businesses does not involve financial products, and accounting expertise is often not on staff. Online accounting software can build-in the principles of data organization that contribute to reports and presentations that meet generally accepted accounting practices.
The Main Functions Must Be Clear and Simple
Most businesses have to keep records of accounts; they have to pay others and get paid by customers and clients. Accounting software can help the essential tasks of paying on time and getting paid promptly. Other main functions include payroll, tax records, and expenses. Invoice management is an essential function for most businesses because receivables are the primary source of revenue and a critical asset. Smaller businesses and micro-businesses often have simple accounting needs. If they begin to grow, their needs also expand. Multiple bank accounts, credit facilities, and expanded staff or outsourcing are but a few of the typical areas of growth. Expandable accounting software is ideal for these businesses; one can add or begin to use new features as needed. Continuity in accounting software is an added benefit, as expandable software avoids the need to change brands and start learning new systems.
Reports and Documents
There are many requirements and situations in which managers need reports. Using sources of financing, estimating taxes, and developing proposals are but a few instances for making financial reports. Some reports can be done automatically simply by setting categories and updating data on a frequent basis. Reports and documents are easier without the need to research and check data manually or in every instance. Automated data collection provides a great place to begin most reports.
Online Access Adds Versatility and Flexibility
The small business environment is increasingly an online environment providing access to markets and opportunities anywhere within the reach of the Web. Online access provides flexibility for owners and managers of small businesses. They can access the systems from remote locations and at any time. Using mobile devices such as phones and tablets, one is never away from the system, and this extends the locations for getting work done. One does not have to go to the office or even sit in front of a computer or workstation. Managers can stay on top of details while traveling. Mobile access permits collaboration and team input into problem-solving or work on projects. Many small businesses establish an online presence with a virtual office or executive suite; accounting software can integrate with these systems for effective presentations, Web pages, and dashboards.
Experience is the Teacher
Owners and managers can learn while using small business accounting software to adapt it to new uses and extend the benefits. The key is a simple and easy to use system that promotes a seamless system start-up. Once the user successfully initiates the system, they gain familiarity. Experienced users can apply the software tools to their individual situations, and many devise unique ways of handling problems and reducing time and effort. One can continue to learn from software provider's resources as well as real-time activities.
Saving Time and Reducing Effort
Accounting software can perform many tasks that managers might otherwise do manually. They can replace spreadsheets and ledgers. They can perform the basics of double-entry bookkeeping and keep records in accordance with accepted accounting practices. When the business needs reports for internal management and external requirements, accounting software can provide easy access to current data on key categories like sales, bank balances, cash flow, payables, and receivables. The software is ideal for managing multiple bank accounts, credit cards, and lines of credit. It can display information on graphic forms that provide quick analysis of the condition of the business.

Technical Support is Vital
Small business owners and managers benefit from easy access to an extensive range of technical support for small business accounting software. The difference between frustrating failure and rewarding success can be a short phone call that helps orient the user correctly. Technical assistance providers with high levels of proficiency and experience can quickly point users away from points of confusion. If the provider seeks to offer a simple, straightforward small business accounting software system, then technical assistance must be an essential part of the overall service. Passive forms of technical assistance can be effective too. Questions and answers pages can add to understanding and demonstrate best practices.

Making the Right Choice
A trial and demonstration are excellent tools for selecting small business accounting software. One can project circumstances that occur in one's business. Many small business managers note that too often a demonstration focuses on the strengths of the software rather than the needs of my business. Ease of use is a critical factor when selecting accounting software. Frequently the users have little time to learn and low levels of prior accounting knowledge. There are many helpful items on the Sage One website to determine the best fit for your small business accounting software. One can even have a hands-on demonstration at http://na.sage.com/us/sage-one
Join the Thousandaire newsletter
Subscribe to get our latest content by email.