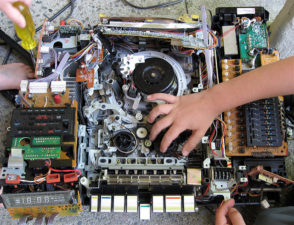 The market for electronics is huge and if you're looking to save some money, sometimes buying refurbished gear can be a good choice. Often things are discarded because of the latest model coming out or other issue that needed to be fixed on a device. If you're not looking for the state of the arch gear or just want something that will get a job done, refurbished devices might be for you. There's also a time you should buy new and keep up to date, for whatever your technological need is.
Refurbished Choice
There are a whole group of devices that include, laptops, computers, smartphones and other electronics that have been returned to a retailer for one reason or another. They have then been refinished, repaired, and ready to be sold as a refurbished electronic. If you're interested in saving some money on new or old gear it can be a great decision to go this buying route.
For the most part only a small amount of 5% of returned electronics are done so because they are ineffective or defective. A lot of the times a refurbished laptop won't even have been used by the person returning it. It could be because there is a little mark or scratch and it was then returned because of an accident in shipping and handling.
A refurbished item could save a consumer potential hundreds of dollars without having to worry that their product is going to be defective and need to be returned. In this case it's a great idea to go this route.
Benefits All Around
Now sometimes you'll want to be on the cutting edge and buy a product brand new. But if that product is also newer and has been returned you could end up getting it refurbished. Learn more here on a product that you may be able to snag at a refurbished rate.
Many of the times these newer products end up getting refashioned is because a lot of these companies are environmentally friendly and don't want to contribute to the waste of the land.  So that is why it's smart to keep an eye out for even products that have just been released in the past few weeks or months.
Staying Vigilant
It is a key factor to stay aware on the policies that come with a new or refurbished product. Apple for example will offer a 14-day return policy for all of its products. Others will not do this and it is important to know whether you can bring an item back or not.
Check with your credit card provider if they offer some kind of protection in this case that goes against the retailer and will rule in your favor if you decide it's not adequate. Always make sure to buy from a trustworthy brand that you use so you are safe. Refurbished electronics can be a great marketplace for you as you can end up with a great deal.
Scarlett Noble is a traveler (currently in Australia) and writer who shares her adventures and advice as she explores life as a digital nomad.
Save More Money in 2018
Subscribe and join the worldwide 52-week money challenge! Get the tools you need right to your inbox.