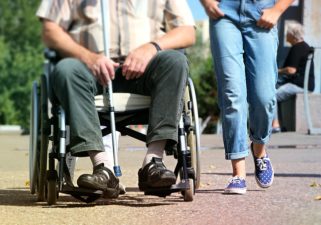 Everyone wants to live a life that is relatively debt-free, and as much as possible, with money in the bank for one's retirement years. But, when people live with a disability there are often a great deal of financial challenges. Here are some of the specific financial challenges people with disabilities face today:
An inability to work full-time hours
The need for various forms of treatments and medications not covered by universal healthcare
The need to purchase adaptive equipment and technological devices
The need to purchase an adaptive vehicle and/or scooter
The need for adaptive equipment in the home
Special dietary requirements
One step every person with a disability can take is to meet with a financial counsellor. Disability Credit Canada, who can help by providing expertise and advice on how to apply for Disability Tax Credit.
If you're living with a medical disability you can receive up to $40,000 in tax credits from the Canadian government. In order to start receiving any money, however, the first step, of course, is completing a form…"
All the provinces and territories have established programs to assist the disabled. Every province and territory is different but some of the services provided are:
Assisted living
Transportation
Child care
Prescription
Finding employment
Homecare
It is essential to set up a monthly budget which assists in balancing income with expenses.  Once a budget is created, the next step is to increase one's income, and find ways to decrease one's expenses. This is often difficult but certainly not impossible. The point here is to increase one's cash flow and hopefully begin to save money for the future. Financial planning isn't just for the rich. In fact, it's extremely important to have a plan in order to successfully survive on limited resources…and it's easier than you may think. The whole process can be summed up in one word: control.
Disability Credit Canada is a wonderful organization that can help. When it comes to getting a Disability Tax Credit Application approved & getting the maximum refund, no one is more effective. The five-step process as described on their website can assist people living with a disability to recoup some of the costs they incur due to living with a disability. Many Canadians choose to cover themselves with another option known as CPP Disability Pension. Once again, Disability Credit Canada can help. They can assist you with detailed information that helps to make an informed decision as to whether or not the pension is right for you.
People with disabilities also have many of the same concerns as their non-disabled peers.  They need and want to plan for the future just like everyone else. They want to try and set aside funds for their children to use to go to college. They want to purchase a home, and create a safety net for the future in case something happens, such as the need to leave a marriage, buy a new home, take care of an elderly parent, or repair their car. There is no difference between these basic needs, and as such, people with disabilities also need to plan for their future retirement.
For Canadians with disabilities, it is imperative to make use of resources available. Disability Credit Canada can lead you to and sort out the importance of those resources. It is always better to plan earlier rather than later. All too often people wait until there is a life crisis and then they run to a financial planner. The fact is, any planner will do their best work when you see them well ahead of time. In order to be fully active, independent and empowered people with disabilities also need to be financially savvy and informed. The resources in this article can help take you there. One of the best ways to be financially smart is to know when it's time to speak to someone else about your money.
Check out some of our top posts:
Save More Money in 2018
Subscribe and join the worldwide 52-week money challenge! Get the tools you need right to your inbox.