New Year's Day is right around the corner, which means a lot of us are going to start making resolutions. Some will decide to go to the gym, eat healthier, or maybe even get more strict with their budget.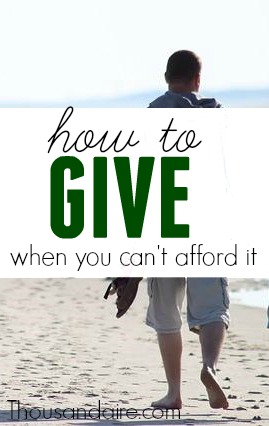 If you're like my wife and I, we want to donate more money to charity. And when we say charity, we don't necessarily mean non-profit organizations; we mean any organization or individual who needs help. Anyway, we would love to do more than we do today but we are on a super tight budget because we are building a house. We've already cut back substantially on spending and there's not room to increase charitable donations at this time.
So should we give up? Of course not!
We don't have money in the budget to donate, but we can make time to volunteer. We already volunteer at our church, but we are actively looking for more ways to volunteer and use our time to give back to people in our community.
You might be in the same boat as we are. You want to make a bigger difference but feel like you don't have the funds to do it. When you don't have money, consider giving your time.
Just like I don't limit myself to non-profit organizations for my monetary donations, I also don't limit my "volunteering" to those groups either. You can do a lot of good by volunteering at a soup kitchen. You can also do a lot of good by helping your friend move or spending an afternoon with your widowed grandparent.
Sometimes you feel the urge to reach out to an old friend you haven't spoken with in a long time, but get busy and never call them. A nice phone call from a friend might have been exactly what that person needed to get through a tough day.
Can you imagine how happy you could make someone by writing them a sincere, heartfelt letter about how much they mean to you and sending it to them via good old snail mail?
A few years ago I spent a lot of time volunteering for non-profit organizations, and I found that almost all of them I worked with had more volunteers than they had volunteer work available. I also found that when an organization is getting something for free (volunteer work), they don't value it.
I was helping renovate a daycare in a low income part of town that had flood damage. One week we put down a tile floor. The next week we were pulling up the tile floor we just put down because they decided they wanted something different. If they were paying for the labor to do all that work, you can bet they would have made the right decision the first time.
So whether it's donating more money, volunteering for a non-profit, or just helping your niece with her homework, make it a priority from now on to just be a better person and give back any way you can.
You can also donate an old item that you no longer use, such as a boat. Many people all over the country are learning how to donate a boat because of the benefits that it provides for everyone involved. The charity receives an asset that it can sell at auction, children's organizations receive money, and you receive a tax deduction in the amount of the boat's sale price.
Just because you do not have the money to make a cash donation this year does not mean that you have to completely give up on the idea of helping those less fortunate.
Join the Thousandaire newsletter
Subscribe to get our latest content by email.