If you were asked to name a budget-friendly location where you might expect to go home with some cash left in your pocket, Las Vegas is not likely to be the first place you think of.
Most of us associate sin city as the ultimate destination for entertainment with all the casinos, five-star hotels and dazzling entertainment on offer, but you can have it both ways and have a wild time on a budget, as long as you follow a few tips on how to do it.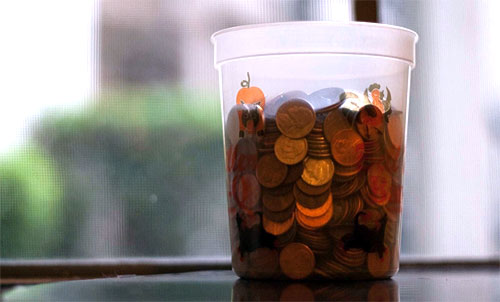 The view is free
The first thing to say is that just wandering the strip is a lot of fun in itself and of course, absolutely free.
Watching the gondoliers wandering around the Vegas version of Venice or taking in the pyramids of Luxor won't cost you a dime and neither will the botanical gardens at the Bellagio. There are also free attractions inside some of the casinos, like massive tropical aquarium at the Silverton Casino or the wildlife gardens at Flamingo's.
The idea behind these visual treats is to tempt you in to the casinos of course, but at least you won't be paying to enjoy the view if you can keep some of that cash in your wallet for a bit longer.
Finding a hotel
Unless you are a high-roller and going to get a suite in return for spending large in the casinos, which rules out most of us who actually have a budget to work with, you are going to need somewhere to stay at a price that won't leave you short before you start your trip.
Las Vegas hotels are world-famous, with so many outrageously large and opulent palaces to choose from and prices that have a few too many zeros added to them, unless you are a bit savvy with your booking plans.
Most of the hotels are often cheaper mid-week, so a bit of luxury should cost you less if your trip is before the weekend rush. Also search the Las Vegas convention calendar to see if there are any events that are on when you plan to visit, as this will drive prices up due to high demand for rooms.
Seeing a show
Shows are big business in Vegas and are probably more popular than the casinos these days, which means that there are plenty to choose from and a wide range of prices that you might be asked to pay.
You will find that a lot of show tickets are cheaper online, so if you have decided on a particular show you really want to see as part of your Las Vegas experience, go online before you go and see if you can take advantage of any discount offer or reduced prices.
Big names mean big prices, but there are some fantastic shows that will probably only cost you around $40 and will justify the tag that Vegas is the entertainment capital of the world, without busting your budget.
There are even some free shows in town if you know where to look. The Bellagio fountains run every 15 minutes in the evenings and are pretty spectacular and Circus Circus is a venue that lives up to its name, with a free circus show running every half hour at peak times.
Watch the extras
We all like surprises, as long as they are pleasant ones, but if you are not careful your hotel will deliver an unpleasant one at the end of your stay.
You may have negotiated a great deal on your room rate and been careful with your spending out and about in Vegas, but you could soon blow your budget on hotel extras.
Many hotels will charge you for wireless internet connections or to use the spa, so watch out for these and ask yourself if you really need any of these extras while you are there. You can also find that some hotels charge a resort fee, which can be up to $20 per day and includes "free" drinks and access to amenities. These very rarely turn out to be great value and can soon add a heavy toll to your bill at checkout, so watch out for this.
Follow some of these tips and tricks and you should be able to enjoy Vegas without emptying your bank account.
John Capone is a busy athletic recruiter. He loves to write about his experiences online. His articles can be found on many travel, sports and business websites.
Join the Thousandaire newsletter
Subscribe to get our latest content by email.