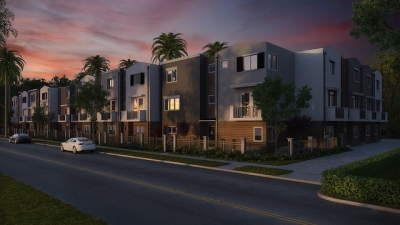 You may have recently graduated from college, started that cushy job you wanted, gotten married, had a baby, or moved to a new town. Whatever the circumstances, you need to decide if you want to rent for yet another year or if the time is right to buy a home. If you choose the latter option, you face great opportunity but also great challenge. Buying a home is much more complicated than buying furniture or a new vehicle and it's easy to get overwhelmed with the process. Fortunately, there are easy steps you can take to get on the road to home ownership.
Tip 1: Start Saving for a Down Payment Early
When asked, the number one piece of advice from anyone associated in home selling is to save at least 5% of the home price. The more you can save, the better off you'll be. For example, let's say that you wanted to purchase a £150,000 piece of property. You'll need at least £7,500, which means you'll borrow £142,500. Add on top of that other costs such as the mortgage arrangement fees, the property survey, legal fees, and land registry fees and you'll need at least thousand more before you even move in. The less you borrow the lower your repayments.
Tip 2: Check Your Credit
The best rates on a mortgage loan will go to those who have the best credit score. But even if your credit isn't stellar, there are likely steps you can take to improve the score. Unfortunately, each lender uses his own criteria to evaluate candidates. Fortunately, their evaluations are based on data from your credit file. So how do you improve it? The first step is to simply review your credit file annually. In the UK, this involves requesting files from Equifax,Experian, and Callcredit. Quick fixes include updating incorrect mailing addresses and other errors. If your credit is less than stellar, work to fix it. Other easy changes include paying bills on time for at least six months, remain at the same address or at the same employer for a longer period of time (several years, if possible), and obtaining store credit cards to build up revolving credit.
Tip 3: Get to know the Community
The neighborhood in which you live will impact your quality of living for as long as you own your home. While a house can be repaired and improved, a neighbourhood's culture is much more fixed. Discovering the character of the community isn't as hard as you might think. Drive through the community at different times of the day and night. Are there common traffic patterns? How loud do neighbourhoods become? Some noises, like the roar of a nearby highway, can be masked during the daytime and only become irritating at night. Another step is to meet the neighbours before you buy. Introduce yourself as a prospective buyer and solicit their opinions on the house, the street, the neighbourhood, and the area. Red flags in personality or the community will show up quickly in these conversations. If you do decide to move in, be sure to thank these neighbours with a gift.
Tip 4: Don't Rush It
When home buyers cite their regrets, a common one is rushing through the process. Rushing makes it easy to overlook costly problems down the road which may not be covered by your emergency savings fund. If you're buying due to a move, consider renting first so you can take your time. If the agent is pushing, find one that is more considerate of your time frame and needs. Agents like those at bairstoweves.co.uk are great for first timers, because they know how to walk customers through each step no matter where they are in the process. Keep in mind that homes will always be available for purchase; rushing makes it hard to see the flaws in your dream home.
Tip 5: Think Outside the Box
There are other ways to obtain a home than traditional loans. According to Gov.uk, there are other home ownership schemes available for those that may not quality for traditional lending. Of special interest to new buyers are the NewBuy and the shared ownership schemes. Under the NewBuy program, new owners can pay as little as 5% down on the home mortgage. With the shared ownership program, potential home owners pay a portion of the household cost (around 25%) and share the rest with a housing association in the form of rental payments. The opportunities exist to provide ownership opportunities for everyone.
Buying a home is an investment in your happiness and security. But it is an investment above all else. A final tip: speak with friends, co-workers and neighbours to find out which lenders, agents, and surveyors they enjoyed working with. Ask them questions about the process and what recommendations they have. You might receive the referral or advice that makes all the difference.
Molly Howarth works in consumer finance and has also been through the process of planning her own finances in order to get on the property ladder. She enjoys being able to share her experiences online and is frequent contributor for a variety of consumer lifestyle websites.
Join the Thousandaire newsletter
Subscribe to get our latest content by email.