Have you ever bought anything online? If you have, you know how beautiful it can be. You don't have to leave the house. No driving. No lines. No sales tax (sometimes). And most importantly, on that day you get the package in the mail, it feels like Christmas.
Retailers love online shopping because it helps them lower their costs (no cashiers, no stores, less inventory) and increase their sales by more closely tracking shopping habits. Because of this, there has been a huge push to drive customers to the web. Once a customer has shopped online, they will continue to do so and will increase their level of online shopping. This has led to double digit growth in online shopping, even during the recession. To me it seems that if there is an industry with double digit growth, it may be worth investing some money in it.
Amazon.com (NYSE:AMZN):
Amazon is the image of online shopping.  There are too many reasons that I love this company, so I'm just gonna start listing them 'til I run out of room.
It just works. Amazon transactions are easy, have timely updates, and always arrive on time, which is key to repeat business
The Kindle.  This little toy will continue to be hugely popular, and most of the profits happen after purchase (book sales)
Amazon iPad/iPod?  Amazon bought Touchco (a touch screen startup) last year and recently created an android appstore.  Are they hinting at launching an android product to build on their kindle success?
Low overhead products.  Many of Amazon's products are not sourced by Amazon directly therefore they have lower inventory costs.
Digital Products.  Amazon has been pushing into mp3s, instant movie, and ebooks.  Customers of these products are incredibly loyal and they carry a high profit margin for Amazon.
Sales increase.  Revenue has and is expected to increase at over 35% per year.
Limited variable costs.  Profit has increased faster than revenue.  This is because there is a limited variable cost associated with additional transactions (Amazon doesn't need to open more stores to increase sales)
Other retailers are driving customers to the web, which ultimately benefits Amazon as more customers become comfortable with online shopping.
I'm getting tired of typing so I'll stop there.
Look Beyond the Obvious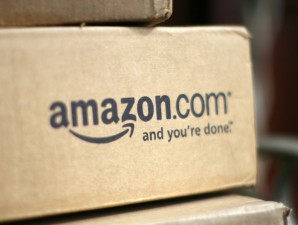 None of the Thousandaire stock picks come without a little bit of free advice.  So although we have listed a number of great reasons to invest in Amazon, the real potential of this company may not be so obvious.
One of Warren Buffets first big purchases was Sanborn Map Company.  He didn't purchase the Map Company at $45 per share because he wanted to invest in a map company.  He purchased them for $45 a share, because the Sanborn investment portfolio was valued at $65 per share, so in reality he was purchasing the map company for 'minus $20' per share. Whenever you invest in a company, you should do some research and look beyond the obvious.  Look at what other business are part of the portfolio and may be overlooked.
We all know Amazon.com, but there is much more to this company than meets the eye.  This company has used their spare cash flow to engage in googlesque behavior of buying a number of small start-ups. With Amazon.com, I feel like I'm getting 50% of shares in a great online retailer, and another 50% of shares in a very savvy venture capitalist firm in a high growth industry.
Here are some companies that are part of the Amazon group:
Amazon.com, Woot.com, Quidsi (Diapers.com, Soap.com and BeautyBar.com), Zappos.com, IMDB.com, Askville.com, LivingSocial.com, Audible.com, DPreview.com, endless.com, fabric.com, shopbop.com, smallparts.com, TouchCo, LoveFilm (British Netflix)…
Most people think of Amazon as only the retail website, but it's important to know about all the small companies they have acquired, because this is a substantial part of their company and also gives you clues into the future of Amazon.
Disclosure:
I don't have a position in AMZN and do not plan on purchasing any in the next 60 days.
Kevin's Take:
I actually bought in to AMZN last Tuesday at about $163, and it has already risen to $170 from there. Amazon is the future of shopping as far as I'm concerned, and it's the first place I go when I look to purchase anything online. They have a great user interface and I think they are providing an incredible service. This is a company I truly believe in and am happy to hold in my portfolio.

Important to note that ALL ideas, thoughts, and/or forecasts expressed or implied herein are for informational and entertainment purposes only and should NOT be construed as a recommendation to invest, trade, or speculate in the markets.
Join the Thousandaire newsletter
Subscribe to get our latest content by email.