Property analysts are at heads when it comes to property pricing predictions. Real estate sales agents and online portals like LocalAgentFinder, who operate at the grassroots have noticed opportunities for property sellers to profit over the next 12 months. There are several factors that will influence the performance of the property market in 2016. Before you place your property on the market and start searching for a real estate agent that can sell your property, check out the current performance of the Australian real estate market so far in 2016.
Property predictions from the experts.
David Scutt from Business Insider Australia stated at the beginning of February that Melbourne was home to the hottest housing market in Australia over the last 12 months, with an 11% median price growth.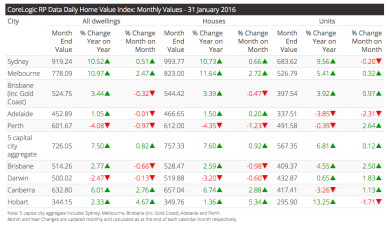 However, Domain chief economist Dr Andrew Wilson has predicted that the year will be flat compared to 2015. Dr Wilson was quoted saying, "I've been predicting up to a 4% property price growth rate in Sydney and about the same nationally. Economic circumstances are now set to deteriorate and it will be a year of circumspection."
Australia's house price forecasts look conservative when compared to the rest of the global housing market. Fitch Ratings predicted a 2% increase in house prices over 2016.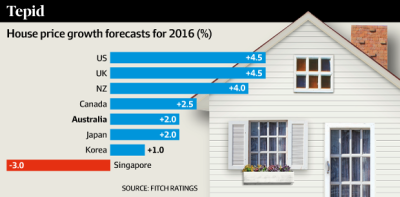 Source
Real estate sales agents are optimistic that strong sales opportunities will occur in niche areas of the Australian housing market.
What are some of the other factors that will affect the property market?
Interest rates
It's hard to say whether the reserve bank will leave interest rates as they are. 2015 saw interest rates fall to historic lows with the Australian Reserve Bank cutting interest rates to 2% in 2015. The major Australian banks have passed on the cuts to property owners and it has incentivised the property buyers market, thus increasing price demand on properties. Further cuts could see the property market undergo another wave of investment demand, however, rate increases could curb the price growth.
Supply dynamics
Housing construction is predicted to have slower growth in 2016 based on results from the ANZ Property Council survey. Cherelle Murphy and David Cannington, who are members of the ANZ economic team, have noticed that the decline in the housing market is offset by a solid pipeline of planned work on residential and commercial property projects. Based on the initial outlook, property prices could remain stagnate if buyer demand remains at its current level and the supply factor from pipeline developments continues to rise. Should the opposite occur, property prices should start to rise again.
Wages
Property price appreciation has outpaced wage growth over the past few years. First homebuyers have struggled to get onto the property ladder simply because they had been getting priced out of the market. Salaries and wage levels struggle to match the loan to value ratio required to secure the finance for the property. Possible changes to lending practices could ease people's accessibility to finance and trigger more buying activity throughout the year.
Neighbourhood Sentiment
Every Australian city has its own story, which is attracting buyers to those markets. Brisbane has been on the radar as the city that offers a strong quality of life, great infrastructure and lower pricing compared to the other major cities Sydney and Melbourne. Brisbane is being marketed to Sydney buyers that are priced out of the Sydney market, but can purchase a property in Brisbane that will offer them a similar lifestyle.
Buyer dynamics.
There are several buyer niche markets that property sellers can thrive on. Australia's aging population are seeking retirement options. Additionally, the first homeowners buyers market continues to get stronger and more aggressive as the millennial market start to seek out their own homes. Additionally, the investors market continues to thrive with professional and amateur investors keen to profit from property equity.
There is an opportunity to sell profitably in the Australian property market in 2016. Property vendors can exceed the median sales prices in their area by piggybacking off the demand for their specific property. The property price road may not be paved with gold like yesteryear, but golden opportunities still exist for those that are willing to find them.
Join the Thousandaire newsletter
Subscribe to get our latest content by email.