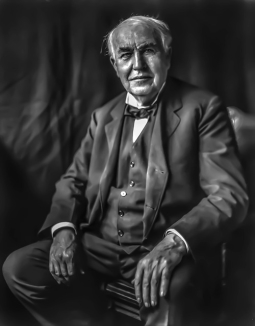 We live in an age when everyone wants to make their mark on the world- with the most popular enabler being that of invention and entrepreneurship. By making every day problems disappear, creating a product that can do it better, faster, and be smaller and more attractive than its predecessor.
Some of us feel pressure that you have to have a bench at a lab, a team of researchers or engineers, or some Silicon-valley programmers in hoodies to truly become an innovative and successful entrepreneur. And with some of the inventions of the last decades like the internet, GPS, electric vehicles, or DNA-specific drugs, there's no wonder the young inventors of today can feel intimidated. On the flip side, however, the cost of production has never been lower, access to information and knowledge has never been easier, and financing ideas as much fun (ex. Crowdsourcing).
One thing that millennial entrepreneur hopefuls need to know is that you do not have to be a Mars-appropriate helmet designer to make your mark on the world and to be a successful business developer. The bulk of inventions and new products in the last century are just better versions of earlier inventions or a rethought approach to them. The challenge is to make your audience aware of your product's or service's special features that will make their life better and more fulfilled.
People love examples, so I have some ready for you:
The Bluetooth Radio/Speaker
Is this really so complicated? All of us non-engineers will say "uh…yes", but the concept is quite simple. You don't want to have to walk over to the speaker and change the station or have to fiddle with your hooked up computer or mobile device. Now, I can be in the kitchen making breakfast and pull my phone out of my pocket to change the track playing in the living room- no wires, no remotes, no need to drop everything and go to the speaker.
Clothes
People have worn clothes and will continue to wear clothes- but other than just evolving fashion trends, you'll find that the products are getting smarter as well. Instead of donning "Spanx" a revolutionary product, companies are launching new styles of body shapers to smooth your curves and slim your figure. This attire has body shapers built into it, so you are free to wear whatever undergarments you please and still maintain your optimal figure. No awkward Bridget Jones moments for today's generation of ladies!
Fix-it Sticks
You are cycling to work and all the sudden, a screw gets loose (on the bike, not your mind) and you are stranded on the road, inevitably late to your morning meeting. No one wants to carry a full toolbox around with them- one that would include all those screwdriver bits that you could possibly need. That's why the Fix-it sticks are so easy- small, foldable, and completely portable, they can fit in your pocket to be available in your time of need.
As you see, inventions don't have to be earth-shattering to be good. They just have to make sense and be designed in a smart way, something that a lot of us can do if we put our minds to it. Important things to remember if you want your product to be successful is the power of aesthetics, good marketing, and viral crowd-sourcing. Utilize social media, freshen up your connections, and work your network like crazy. Just creating something isn't enough- your passion, individuality and "big idea" have to shine through and you must be whole heartedly committed to its success.
Join the Thousandaire newsletter
Subscribe to get our latest content by email.