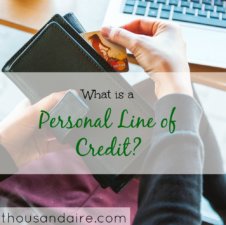 Are you thinking about opening a personal line of credit? When it comes to borrowing money, you have many choices. You can go to a bank to get a traditional variable or fixed rate loan, go to payday lenders, or borrow from family and friends.
This credit line offers an unsecured loan from a lending institution such as a bank. You can borrow against your personal line of credit at any time without having to reapply. Although the rate of interest will be a bit higher than that of home equity lines or traditional bank mortgages, a personal LOC is still more affordable than credit cards, which have a high rate of interest.
You should use a personal line of credit as you would a credit card. A LOC is written for a specific dollar amount, which you are not allowed to exceed. You can access the funds on this account via debit cards, checks, as well as transfers to your personal account. However, just like a credit card account, you have a limit, you have to make a minimum payment, and you will receive a monthly bill.
Moreover, you only need to pay interest on the money you have used, not the whole account. Unlike home equity lines of credit, a personal LOC is unsecured. Although you might try to get more money from your home equity line, you should not put your house on the line.
How does a personal line of credit work?
This funding option addresses the fact that most banks do not want to guarantee one-time personal loans that are unsecured. Moreover, it is uneconomical to take out a loan every other month and repay it then borrow again. A line of credit deals with both issues by making some money available to use at your discretion.
Although most people compare credit cards to lines of credit, you need a credit card to access your LOC. Every month, just like with a credit card, your lender sends a monthly bill. The minimum monthly payment and interest charge will be calculated based on the outstanding balance that you have on the line of credit.
Because it is a revolving credit line, as you repay the outstanding balance, you make the line available for use. This funding can be beneficial for persons who never use the line because they will not need to make payments on it but it helps their credit score. On the other hand, if you use your LOC, you only need to draw the exact amount that you require.  
Why use a personal line of credit?
If you have an irregular income stream because you work on commission, using a LOC will smooth out your finances. Moreover, you can use this funding option to pay your tax bill. However, a LOC will not help you if you need to buy things that you cannot afford.

How to apply for a line of credit
When applying for a LOC, the lender will first check how creditworthy you are, which proves your ability to repay the loan. Do you have a good credit score? Your borrowing limit will be much higher and your interest rate will be much lower. Therefore, you need to review your credit report before heading to the bank. You can also open a business line of credit to grow your company. Are you wondering what the bad credit business line of credit interest rates are? You should visit your local bank or credit union to find out if you can get a LOC with bad credit.
Save More Money in 2018
Subscribe and join the worldwide 52-week money challenge! Get the tools you need right to your inbox.