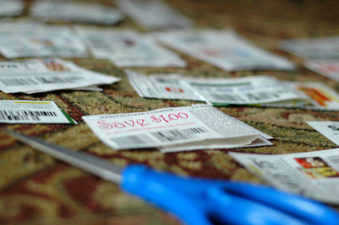 If you associate coupons with your mother or grandmother's coupon-clipping parties in the 1980s, then you may think that this form of promotion is a thing of the past. However, coupons are alive and well, and the answer to the question, "Who should use coupons," is "anyone who wants to save money." You may be careful to buy items on discount all of the time, but may not realize how much more you can save if you use coupons. You may be amazed at how much you can save from old-fashioned newspaper and magazine coupons as well as those available online.
Why Don't More People Use Coupons?
Actually, there are many people who use online coupons, given the popularity of websites advertising promotions. Still, you or some of your friends may not use coupons because you may feel that you can browse for the best deals online. There are many discount websites that can provide you with quality products at lower prices or you may hunt for markdowns at your favorite site. However, coupons can compound these savings and make your purchase even cheaper.
Another reason more people don't save online using coupons is that they are in a rush. This is understandable, because ecommerce sites aim to push the customer from the browsing phase to the final purchase as quickly as possible so the transaction can be executed in just a few clicks. This may make shopping quicker, but it means you may miss out on special promotions. Instead of constantly looking for new ways how to save money, you can always use the tried and true method your mother used, but in a new form–coupons.
Where to Find Coupons
You can find coupons the same place your mother did—in newspapers, magazines and in the stores. Given the role of the internet in our lives, you may not be able to find as many coupons as your mother did, but it is still worthwhile to look in paper publications, because local companies often advertise promotions there to stay relevant. You can also find promotions when you are in the grocery store, but beware that they aren't pressuring you to buy things that are not already on your list.
When you have selected an item you want to purchase online, take second before you go to checkout. Open another window in your browser and look for a coupon for that particular item. You will either be directed to specific promotions or to a coupon site where you can look through the categories to find what you want. The coupon will consist of a code that you can use on websites or a download you can print and redeem at a physical store.
Time is Money
The time you take looking for coupons may slow down your purchase, but this can provide a double advantage of making you avoid knee-jerk impulse buys and allowing you to find coupons that will save you money. Think about the time you spend looking for coupons as earning money rather than wasting time. Would you like to make $5-$10 in just a minute or two? You can do just that if you find the right coupon with a few clicks.