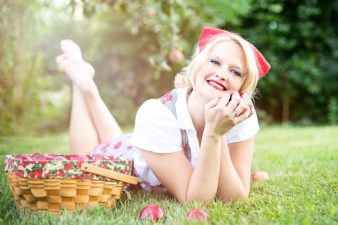 This article was sponsored by SelectQuote and was written by fellow blogger, Emilie Burke. All thoughts and opinions are her own.
If you've ever experienced the death of a loved one, you'll know how difficult it is. Loss is always unexpected, and while my family would be grieving my loss, I don't want them to worry about the financial burden losing me will make on them. I don't want to leave them with another worry in an already difficult and stressful time.
As a single, 23 year old woman, I chose to buy life insurance for myself and make my sister the beneficiary. When I told friends and family of my decision, they questioned why. After all, I don't have a husband or kids who would be impacted by my death. There were 3 main reasons why I chose to take out life insurance now instead of waiting until later.
I don't want to put any additional burdens on my family.
I've heard that funerals in America today cost roughly $10,000. I don't know about your family, but mine does not have that kind of money sitting around in a bank account. I remember when my Nana passed away listening to my dad and aunts talk about how expensive it was going to be and they had five siblings amongst whom to share the cost. If we were ever in that situation, my family would need some way to fund my burial expenses. This is where life insurance from SelectQuote comes in.
Also, I am planning to buy a house soon, and my family would need some way to make house payments without impacting their own finances (or until they were able to sell it.) I'm currently working to pay off my remaining $15K of debt. Although in my situation, if I were to pass away the debt would be dissolved, that is not always the case. If I had any co-signed loans, the co-signer would be responsible for the full payment of the loan. Additionally, If I were married, the debt would automatically transfer to my husband, who I would not want to burden with my loans either. I do not want to burden anyone with my financial mistakes when I am gone.
I want to help my family members after I am gone.
Although I am not rich by any stretch of the imagination, I try to help my family when I can. If something were to happen to my family after I am gone, they would have the life insurance money to help them out in a tough situation, such as losing their job. I want my family to know how much I loved them, and financially helping them is the only way I can help them after I am gone.
It's low-cost and high return.
Right now, I can get a life insurance policy for cheaper because I'm young and healthy. Rates generally go up with age, especially as health issues develop. If I were to wait until I have a spouse and children, in say 10 years, to take out a life insurance policy, it would be more expensive, especially if any health issues were to arise between now and then. Hopefully in 20 years, when my life insurance policy term is up, I will be in a position to self-insure. Until then, it gives me peace of mind that my financial expenses will be taken care of after I pass away.
Traditionally, experts recommend buying life insurance with a death benefit that is 7 to 10 times your annual income. However, this could leave you under-insured. When determining how much insurance you'll need, take into account how much debt you currently have and any future expenses like college or paying off a mortgage.
Consider also how you'd like your loved ones to live after they are gone. For instance, I've always wanted to take a trip to Europe, and when I pass away, I want my loved ones to go on that dream trip to Europe in my memory. Do you want to leave a legacy to your nieces and nephews or favorite charity? If so, you may want to consider that when determining your amount of life insurance. For me, a $400,000 life insurance policy is fine, but for someone who is a stay-at-home parent or takes care of aging parents, you'll most likely want to insure yourself for more.
When I was pricing life insurance policies, I went online to SelectQuote. It took only 5 minutes to fill in the requested information. An agent was then given my information to price the most accurate quotes available, and within 5 minutes he called me with the quotes. SelectQuote also has options to price auto and home insurance, which was so convenient. After receiving quotes for auto insurance, I switched policies and was able to save a fair chunk of money per year!
One of my mentors always said "When you don't make a plan, you plan to fail." Regardless of your family situation, if you are not in a position to self-insure, you need some sort of life insurance. They say that two things in life are guaranteed-death and taxes- and I want to be as prepared as possible.