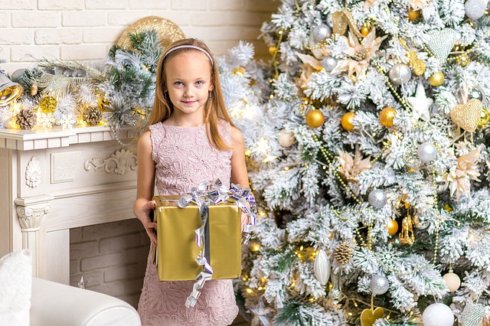 When Labour Day passes and the summer heat turns into chilly fall evenings, it hits you. It might be a display in a store or an ad on TV, but Christmas is coming. If you're looking for a unique gift idea this year, consider the gift of a silver or gold coin. It may not be high on your children's wish list, but a silver or gold coin given at Christmas will carry both sentimental value and real wealth. A collectible can be a fun gift geared toward their interests, while a bullion coin is a way to teach your kids about investment. It's hard to get teach kids about the importance of saving when you're just looking at numbers in a bank account; show them something real with a silver or gold coin.
Anyone with family from the UK may be familiar with the traditional Christmas Sixpence: on the Sunday before Advent, also known as "Stir-Up Sunday," it's traditional for English families to bake a Christmas pudding. Within that pudding, though, is a silver sixpence – whoever finds the lucky coin in their serving can look forward to the next year bringing luck and wealth. Precious metal coins have long played a traditional role in Christmas celebrations, and you can keep them alive with gold and silver coins bought from an online dealer.
Want to save money buying gold and silver coins from the Royal Canadian Mint? You can buy silver and gold coins and bars minted by the Royal Canadian Mint from Silver Gold Bull, an online gold dealer with one of the largest inventories of precious metal products in the country. Don't be dissuaded from online shopping – not only are purchases tracked and insured, online gold dealers can provide gold and silver coins faster and cheaper. Do your research and look to see if the online gold dealer is an authorized bullion and coin dealer of the Royal Canadian Mint. Companies like Silver Gold Bull sell bullion and coins from the Royal Canadian Mint at a low premium over spot, as well as collectibles and bullion coins from other mints across the world. Even if you're buying silver bullion, you can still find beautifully minted works from across the world. At Silver Gold Bull, you can find silver coins from Canada, the U.S., Australia, New Zealand, China, Armenia, Mexico (known for its Silver Libertad), Austria, and more.
The Royal Canadian Mint has been minting coins since 1908, when it was set up as a branch of the London Mint. It began minting Canadian coins in 1931 and it's responsible both for the coins you use everyday and the coins and bars you can buy from gold dealers online.
Buying online also allows you lock in your price on bullion coins and bars. When you see an opportunity you can't afford to miss, you can place an order for gold and silver bullion right away. It will then be shipped to you in insured and tracked packages. Get your gold and silver coins delivered just in time for Christmas, and light up someone's life with a unique and special gift, whether it's a collectible coin or their very first investment.
James Hendrickson is an internet entrepreneur, blogging junky, hunter and personal finance geek. When he's not lurking in coffee shops in Portland, Oregon, you'll find him in the Pacific Northwest's great outdoors. James has a masters degree in Sociology from the University of Maryland at College Park and a Bachelors degree on Sociology from Earlham College. He loves individual stocks, bonds and precious metals.