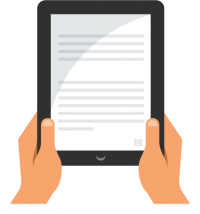 You're going to want our free ebook — because it's free!
If you answer yes to any of the following questions, you need our free ebook: Are you having a hard time making ends meet? Does it seem like you can't hold on to money for very long after you get a paycheck? Can't stick to a budget (for very long)?
Follow the simple advice in this free ebook and you can hack your finances without feeling like you're depriving yourself (of much). It's a very quick read so you should be able to implement the suggestions contained therein equally quickly.
If you're still wavering about whether to take just ten minutes to read our free ebook, allow us to remind you that learning simple lessons on how to pare down your spending beats the heck out of alternatives like:
Having to move in with your folks
Working multiple jobs
Not paying the bills
Having your credit rating go to hell
Having your phone or electric shut off for nonpayment
Being unable to pay the rent and getting evicted
All of these negative consequences of overspending suck, don't they?
Are You Ready for Our Free Ebook?
Follow the instructions in the box below and you'll be on your way to hacking your wallet. And after you read our free ebook, please let us know what you think by posting about it in the comments section beneath this article.
Jackie Cohen is an award winning financial journalist turned turned financial advisor obsessed with climate change risk, data and business. Jackie holds a B.A. Degree from Macalester College and an M.A. in English from Claremont Graduate University.