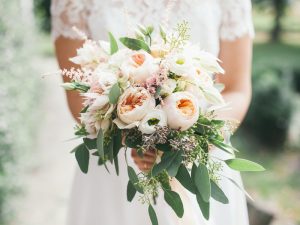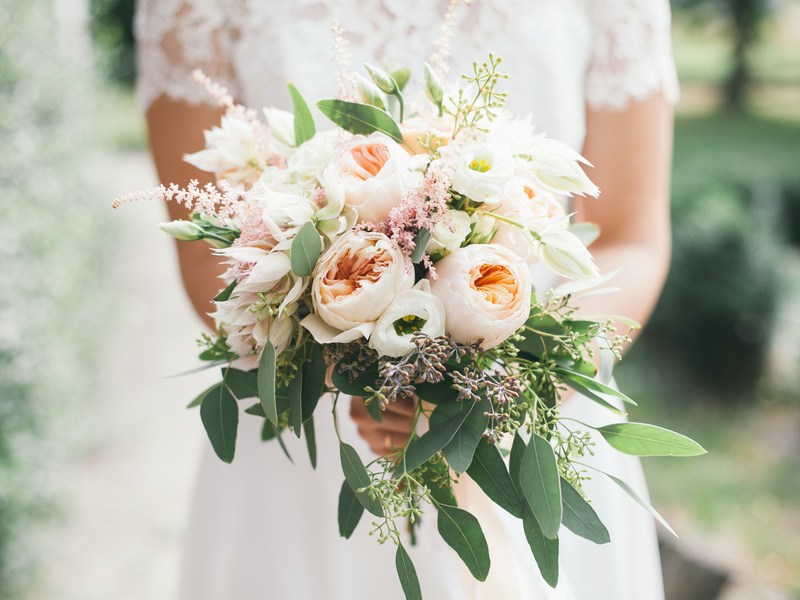 Although roughly 827,000 divorces happen every year, that fact doesn't do much to dissuade happy couples from tying the knot. That said, if you want your marriage to succeed, you might want to do everything you can to avoid financial issues; after all, money is cited as the second leading cause of divorce. For those who want to start their marriages off the right way, planning a wedding within your budgetary means is essential. In other words, you should steer clear of overspending. Unfortunately, that's one mistake a lot of American couples are making. In fact, taking out a wedding loan is becoming more common than ever — but that doesn't mean you should follow the trend.
In general, Americans are already dealing with high levels of debt. But as the wedding industry continues to expand, it's no surprise that the budgets of betrothed couples are expected to expand right along with it. WeddingWire's 2017 Newlywed Report found that 63% of brides feel substantial pressure to have the perfect wedding. Trying to put together a wedding that will be shared on websites and social media accounts often comes with a cost, prompting couples to spend far more money than they should. Taking out a wedding loan might seem like a good idea when you start getting quotes from caterers and florists, but it might put a cloud over what's supposed to be the lovey-dovey honeymoon period of your marriage.
A recent study found that the average wedding in 2017 cost $27,000; only a year later, that cost nearly doubled to $44,000. And while there are certainly some ways to save money on a wedding, the desire to unlock dream wedding status proves to be too much for some. The Washington Post reports that online lenders are issuing up to four times as many so-called "wedding loans" as they were only a year ago. Many of these loans are being issued to the couples themselves, who are either choosing to pick up the tab or who are forced to do so by circumstance. Because couples are often waiting longer to get hitched, their parents may not be able to contribute as much to a wedding fund due to rising retirement costs. Alternatively, older brides and grooms may feel they're in more of a position to pay for the wedding themselves — until they realize the staggering costs involved in saying "I do."
Lenders like Prosper, Earnest, and Upstart specialize in wedding loans, many of which have interest rates as high as 30%(though the average interest rate hovers between 7% and 18%). On average, couples will borrow roughly $16,000 and will pay off their loan within three years. These companies will typically consider employment status, income, and credit history when approving loan applicants, which means that if you have an average FICO score (which was 699 during 2016 on a national scale) and don't have any red flags, a lender may very well allow you to borrow a significant amount for your big day.
And while these loans may have lower interest rates than your average credit card, that doesn't mean that borrowing thousands of dollars for your wedding is a safe financial move. According to Rachel Cruze, a financial expert who was interviewed on this very subject for "Good Morning America," it's easy for couples to lose sight of what really matters when planning the big event.
"Put effort into the marriage, not the wedding," Cruze advised couples. "You have to be really careful when you're going into this process to say, 'Okay, what can I afford?'… Our expectations for what our weddings should be are pretty astronomical because you're seeing what everyone else is doing with their wedding. You're seeing all the photo booths, all the great food, all the bands, all the things and so you have to be realistic about your wedding."
That sentiment is echoed by Roger Ma, a financial planner who was interviewed by the Post: "Financial companies have become very good at making you feel okay about borrowing money. In the end, though, they just want you to spend money you don't have, and that's never a good idea."
If you don't want to be saddled with debt before you even walk down the aisle, you'll want to keep your eye on the long-term goals you've established as a couple. Sure, it would be nice to have a donut wall or custom-made signage at your wedding. But are there better uses for that money? If you have dreams of buying a house or have existing debt to pay off, definitely. Create and stick to a budget and have a way to bring yourself back to earth when you're getting too carried away with Instagrammable wedding features. If you need to stay off social media and Pinterest during the planning stage, so be it. You might also need to pare down your selections and eliminate what you don't really need at your wedding. And, if all else fails, you might DIY everything possible or consider having a cash registry for your wedding in lieu of gifts.
For those with expensive taste, it might seem inconceivable to skimp on this special day. But when you have to decide between spending $30,000 on a one-day celebration and being able to afford a good life for the next 30 years, the answer seems pretty clear. With all that in mind, elopement might not be such a bad choice after all.