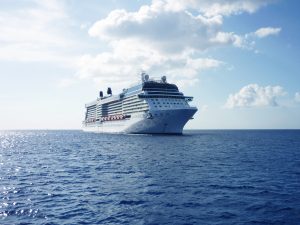 I have been on several hours-long cruises in my lifetime. In several countries. I have never seen the appeal in spending days or weeks in a floating city on the uncertain sea. For one thing, there are too just many factors out of the control of the passenger. You are basically surviving on the good graces of the ship's captain, the crew, and the luck of the sea.
Cruise ships rock and sway with the motion of the ocean. If you are on a cruise in choppy seas, then the floor will almost never be level. This can precipitate seasickness. If one passenger gets a contagious virus, then everyone can get a contagious virus. Also, most people do not consider that there is no such thing as sovereign, "law," in international waters. If a crime occurs, there are no police on board.
The captain or police authorities at the nearest port will investigate, according to the laws of that country. No, crime is not an outsized worrying occurrence on cruise ships. But the fact that it happens cannot be ignored. If a violent occurrence happens on a cruise ship, there is not much that you can do except stay in your cabin. It has happened before.
In February 2018, the Carnival Legend had to cut short a 10-day cruise in the South Pacific due to widespread, uncontrolled brawling on the ship. Over 23 people, many belonging to the same extended family, engaged in roving brawls throughout the ship. They also menaced other passengers and ship's security. Most passengers had to stay in their cabins until the ship docked early in Australia where police removed 23 people.
Cruises are very expensive. If something goes wrong, you'll be on your own.
Viking Sky
On March 23, 2019, the cruise ship Viking Sky encountered engine failure on the west coast of Norway, near Romsdal. Over 1,300 passengers became stranded. Guests were reporting via social media that the ship swayed violently in the waters. Water rushing through windows and doors, as well as the uncontrolled swaying, slammed people and furniture against walls
Over 20 passengers were injured in the chaos. Norwegian rescue teams airlifted half of the passengers by helicopter to safety as the rest stayed on the ship. The ship slowly made its way to a nearby port.
Recent Cruise Incidents
It is very easy to say that this is an isolated incident. It is not. The Carnival Triumph cruise ship was infamously stranded in the Gulf of Mexico for almost 20 days in February 2013. A fire knocked out the ship's engines. Over 4,200 passengers were on the ship. Raw sewage streamed down the walls and hallways of the ship. Food rotted as the passengers waited until the ship slowly sailed to a port in Alabama.
The cruise ship Costa Concordia ran aground, and turned on its side while partially sinking, off the coast of Italy in January 2012. In the chaos, 32 people drowned. Meanwhile, the captain of the ship was one of the first people who were evacuated off of the ship. This left panicked passengers and remaining crew members on their own.
Plan Ahead
The average cruise ticket costs about $212 per day. Most cruise tickets include daily limits for meals and drinks. So, you can end up paying hundreds of dollars more for extra meals, alcohol, and other activities. I am not telling you that you should never go on a cruise. What I am saying is that you should prepare for the unexpected.  Make sure that you have extra money on hand.
Know your travel itinerary in case you must make alternate plans. Chances are that nothing negative will happen on a cruise. However, its best to be prepared as possible. Whether your cruise experience is positive or negative, it will likely be expensive for you either way.
Read More
How to Budget for one week in Mykonos
These Vacation Scams Will Threaten To Ruin Your Good Time (And Your Bank Account)
Join the Thousandaire newsletter
Subscribe to get our latest content by email.