Do you like picking stocks?
I do. I like it best when I pick the right ones, but just picking them in general is fun.
If you think you can pick stocks better than a bunch of personal finance bloggers, you should join the Money Pros 2012 Index Fund Challenge.
Enter the Money Pros Index Fund Challenge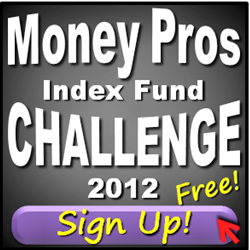 It's simple. You pretend to buy $1,000 worth of three different stocks (you will buy fractional shares of the stock and ignore trading fees) on January 1st, 2012. If the stock accumulates dividends, they will be reinvested in that stock. On December 31st, 2012, the person with the largest gain is the winner.
That's it. The winner gets bragging rights. It's just supposed to be fun.
Again, if you want to join, just sign up here and put in your three stocks. See if you can beat the Money Pros (me and six other personal finance bloggers).
My 2012 Stock Picks
As far as my picks, I haven't completely decided on all of my picks, but I do know one of them is going to be Pizza Inn (NASDAQ: PZZI). I'm pretty excited about Pizza Inn because it's a Dallas based company and they in the first stages of rolling out a new type of pizza restaurant.
It's basically like a Subway where you can customize your personal pizza as much as you like. Then they throw it in the over and it's ready in two or three minutes. This restaurant is to pizza as Subway is to sandwiches and Chipotle is to Mexican food. I have a lot of faith in this business model, and right now is a great time to get involved in the company.
For my other two picks, I am considering AGNC (my favorite REIT with a huge dividend payout), Citigroup (my favorite bank), CPY (owns Sears and Walmart photo studios, has a huge dividend, and has a very depressed price), Sprint (I really just think this stock is on sale). Or I might find something else. I have until Dec 31st to completely decide.
If some of these sound good, you may want to add my picks in your submission. If you think they are stupid picks, then make your own and beat me!
Disclosure: This post is not a recommendation to invest in any of these stocks. Consult your financial adviser for investment advice. I own shares of AGNC and C and am considering purchasing PZZI, CPY and S.