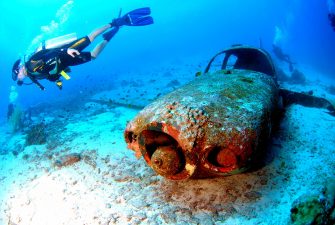 There are many exciting, surreal, and awe-inspiring places that you can visit in the world – that are affordable, especially if you are working with the average $1,200-a-person budget. Here are some affordable vacation spots you might want to consider.
Affordable Vacation Spots You Might Not Know About
Over 30% of all travelers visit the exact some country, location, and lodging every single year. It may have something to do with budget but it's more likely because of the belief that traveling to new, exciting places must be more expensive.
Tai Tai Mountain Park's Cartoon-Themed Mini-Bus Hotels
Taiyuan, China in Shanxi Province is a major manufacturing hub city. It is also a city of historical importance, as it was also a capital for numerous ruling Chinese dynasties. The city has attained a little international notoriety for a theme park of cartoon-inspired and decorated mini-bus hotels. The owners of Tai Tai Mountain Park have rehabilitated former mini buses into boutique lodgings.
Each private minibus lodging has a private kitchen, bathroom and sleeping area. The decorations on the exteriors and interiors include Mickey Mouse, Hello Kitty, and varying manga cartoon themes. You can stay in one for under $50 a night. The cost of a plane ticket to Taiyuan, China ranges between $300 and $500, depending on the time of year.
Museo Atlantico Lanzarote
Museo Atlantico is a surreal underwater museum set under the coast of the Canary Islands near Spain. An awe-inspiring, submerged museum of statutes and art exhibits lay under the coast waiting for adventurous divers. Museo Atlantico is under about 40 feet under the water. The submerged museum also features exotic underwater sea life and coral reefs.
It is the only underwater museum in all of Europe. Certified dive instructors train you in scuba diving by the nearby Dive College Lanzarote over one or two days. Your guides travel with you to the underwater museum over three short-term dives over a day or two. The experience costs $200 per person. A plane ticket to the Canary Islands can cost between $500 to $900.
Dukes Bar, London
The Dukes Bar in London, England is famous for being a favorite drinking spot for legendary espionage author Ian Fleming. The creator of James Bond reportedly created the catch-phrase, "shaken, not stirred," during a visit to the establishment. You can buy James Bond-inspired cocktails like the "Vesper," a Bond girl character reportedly named after one of Fleming's real-life loves, and the, "Fleming 89."
Be prepared to pay $25 to $30 a pop for such cocktails. Dukes Bar is an upscale establishment that was founded in 1908. So dress accordingly – sandals, sneakers, shorts, and sportswear are not allowed. Depending on where you live, and the time of year, you can get a plane ticket to London for $300 to $700.
Try Someplace Different Every Year
You don't have to pay a lot of money to visit fantastical places. Be imaginative. Try to keep your travel dates under ten days to keep costs down. You can settle for visiting the same places every year. The world is just too big, and life is too short, to make such practices satisfying experiences in the long run.
Read More

Allen Francis was an academic advisor, librarian, and college adjunct for many years with no money, no financial literacy, and no responsibility when he had money. To him, the phrase "personal finance," contains the power that anyone has to grow their own wealth. Allen is an advocate of best personal financial practices including focusing on your needs instead of your wants, asking for help when you need it, saving and investing in your own small business.