Let's face it, trying to be frugal and impress a girl at the same time is about as easy as getting Democrats and Republicans to agree on a budget; it's been done before, but it's not easy.
Yesterday Paula from Afford Anything asked me a great question:
And on the subject of your girlfriend Tag: does she share your passion for personal finance? How do you approach/handle that topic in a relationship?
As long as you find a smart, reasonable girl, she's not going to be disappointed in someone who makes sound financial decisions. In fact, I've helped her understand her finances better and she's grateful for the opportunity to learn. The trouble is landing a hot babe without breaking the bank.
I'll tell you the story of my first date with Tag, and how I swept her off her feet without spending an arm and a leg. And for you young guys who are confused by this "first date" thing, let me give you a little piece of advice. If you can hook up with a girl without taking her on a real date, then so can any other guy and you probably don't want to hook up with that girl.
Surprise Her
The worst thing you can do is ask a girl what she wants to do for the first date. Plan it out all by yourself and own the entire date. Even if she's not completely thrilled by what you are doing, she'll be excited about the surprise and relieved that she doesn't have to make any decisions.
Interesting Food is better than Expensive Food
I feel like it should go without saying, but you should buy dinner for a girl when you're trying to impress her. However, you shouldn't go to a five star restaurant. That sets a bad precedent and doesn't do much for you. The best option is a small local place with some kind of relatively unique food.
I took Tag to a place that serves authentic St. Louis Style Pizza, which pretty much doesn't exist outside of my hometown. I found this place in Dallas where they ship in provel cheese and other St. Louis style Italian food, so I was able to introduce her to a food she had never tried and give her some history about me and my hometown. She was impressed with the food, but more importantly she was interested in what makes a pizza "St. Louis style". Total Cost of Dinner for Two: $20
Listen to Her
I know this sounds crazy, but if you actually listen to what a girl says, she will tell you exactly what she would like to do. As you are talking to her before your first date, make a point to remember something she mentioned that she'd like to do, and then plan it for the date. You'll get bonus points not only because she'll have a good time, but also because she'll know you actually listen to her sometimes in between glances at her chest.
Tag casually mentioned that she had never tried gelato and had always wanted to try Salsa dancing. I took her to get gelato for dessert and then I took her to a place that offered free Salsa lessons. She couldn't believe that I remembered her mentioning Salsa dancing and was thoroughly impressed. I also found some Youtube tutorials on how to Salsa before the date and practiced a bit, so I was able to break out a few moves. Total Cost of Surprising Her: $8 for gelato and free Salsa lessons.
Don't Be Afraid to Be Cheesy
A lot of girls won't admit it, but most of them wish they had a date like the ones in the movies. Figure out a way to make that happen.
With Tag, I planned for us to take a walk in this nice area near the Salsa bar, and we ended up sitting down in a certain spot to talk. As we were talking, I reached behind her and pulled out a single long-stemmed rose that I had strategically placed there before the date started. Unfortunately in my attempt to surprise her with it, I actually hit her in the face with the rose. I could have been smoother, but we got a good laugh about it and she really liked the rose. It's also a great story now that we are together. Total Cost of Being Cheesy: $3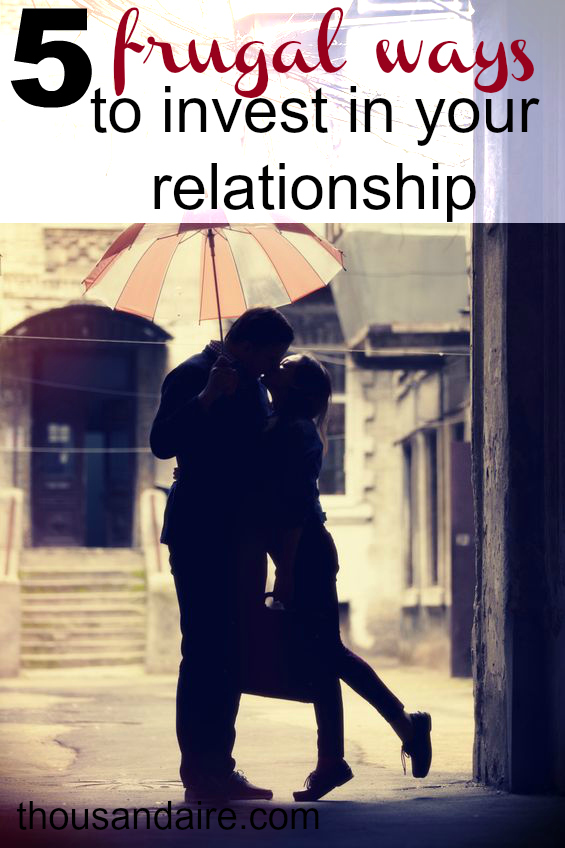 Make Your Move
If you did a regular boring date, then you may or may not kiss her on the first date. I'm not sure how to do that since I've never had a boring first date. However, if you are making bold statements all night long by surprising her and listening to her and even being cheesy, you have to finish strong with a kiss. Just a kiss though, you like her enough to want to kiss her, but you respect her enough not to try going any further. Total Cost of Kissing Her: Free
A Perfect First Date For About 30 Bucks
About a year and a half ago, this was the first of many dates between me and Tag. If you can plan a first date like this one, there's a good chance you'll have enough money in the bank AND her willing consent to participate in date number two.
Now that you've heard my first date story, tell me a story of the best date you've ever been on.
This post was included in the Carnival of Personal Finance at Funny About Money