As I mentioned last week, we are spending $20,000 on our wedding. Now that I've laid out the total budget, I'm going to walk through some of the specific items, how much they cost, and what we are doing to try and save as much money as possible.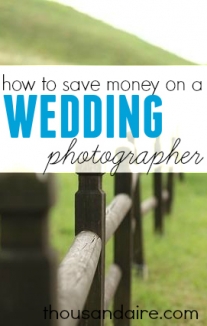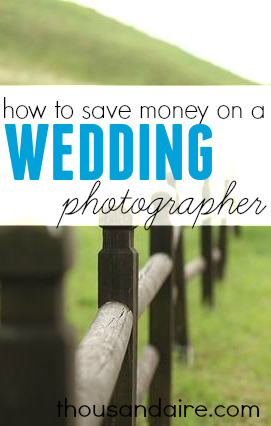 If you're looking for advice on how to do a wedding for a few thousand bucks, I can't really help you there. I can, however, give some advice on how to do a $30,000 or $40,000 wedding on a $20,000 budget. At least that's what we are TRYING to do!
One of the most important things you will pay for at your wedding is your photographer. This should be one of the happiest days of your life and you will remember it mostly through pictures and video (if you have a videographer).
In talking with a lot of people who have tried to have a "cheap" wedding, most regret going with a cheap photographer. These pictures are intended to last a lifetime, and you are setting yourself up for a lifetime of disappointment if you pick a bad one.
Here's our budget for our photographer, which we booked many months ago:
Wedding Photographer: $3,195
We are paying $3,195 for our wedding photos. Keep in mind, this includes multiple sessions, a bunch of prints, high resolution digital negatives, and more
This could have easily cost us almost $4,000 up front, and even more over our lifetime if we hadn't been smart. Here are some of the details about what is included with our package, and how we avoided some costs that might have burned us.
The Wedding Photography Package
What do you get for $3,195? Here's what we are getting:
An Engagement Photo session with up to 2 locations; includes 3 8x10s and 1 20×24 signature mat.
A Bridal Session with a 16×20 gallery wrap
Full coverage of the wedding and the reception (which is about 10-12 hours for us!)
2 parent albums (specifically made for the parents of the bride and groom)
1 customized sign in book for the wedding day
A wedding album with over 100 images
A DVD with a slideshow of the pictures
High resolution digital negatives
and more…
As you can see we get THREE different sessions (engagement, bridal portrait, and wedding day) and a bunch of prints and albums. I had no idea wedding photographers spent so much time with each client! It makes the $3,200 seem a little more reasonable.
Now let's review one of my cost-saving strategies: we made sure to get a package that includes high resolution digital negatives.
Why are the negatives important? Because if you don't own the negatives, you can only order prints from your photographer who will certainly jack up prices to make a profit. When you own the negatives, you can have prints made from any company you want at the cheapest price you can find.
If you don't own the negatives, you will ALWAYS have to go to the photographer to order pictures, and of course he's gonna charge more and take his cut as the middle man. This is hugely important when considering a photo package.
Book Early and Save Money
The other way we saved money was by booking early. Tag and I were engaged last fall and started shopping for wedding vendors right away. After talking to a few photographers and not being impressed, we found a guy we really liked. He gave us a $100 off coupon if we booked within 30 days and also said our $200 deposit would lock in the current prices. We decided to go with him and locked in a price of $3,195.
The package we got usually costs $3,295, but we got $100 off; that's a small saving. The big saving comes from locking in the prices. I checked his website recently and the same package we are getting for $3,195 now costs $3,895.
On January 1st, he is going to raise his prices again for 2014, and there's a good chance our package will cost $4000 or more. Booking early is very important to saving money on your wedding.
This applies to more than just photographers. Any time you book a vendor it's important to sign a contract and make sure the price won't go up before your wedding date. Some vendors (like florists or food providers) won't guarantee a price because they don't know how expensive flowers or beef will be in 2 years. In that case, make sure the contract states that the price can't increase more than x% (try to stay at 10% or lower).
If they aren't willing to put that in the contract, find a new vendor.
We have $15,805 Left to Spend
We started with a $20,000 budget and the photographer has already taken up almost 16% of that budget. My next post will talk about our most expensive item on the list: the reception venue!
Readers: If you've already been married, how much did your photographer cost? Were you happy with your pictures?