While the rest of the world was out partying and hanging out with friends last Friday night, I was building a wordpress website.
Sounds pretty lame right? Well maybe it sounds less boring when I mention that I was getting paid very well to do it.
Thanks to all the WordPress and web development experience I have gotten from running this website, I've learned it well enough to start doing it for other people. I'm applying the skills I learned from my hobby to earn some extra cashola. And it's awesome.

How My Hobby Turned Into a Revenue Stream
When I first started this website in September of 2010, I really had no intentions of making money from it, and I DEFINITELY never dreamed I would ever make a website for another person. But since then I've had one big site redesign here and I've started three other websites (my P90x Workout site and two more still in progress; I'll let you all know when they are up).
All this experience has made me pretty good at learning how to register domains, find and install wordpress themes, and tweak them for small customizations. These are all very valuable skills for other people who want to create a wordpress site but don't have the expertise to do it.
I don't have the skills to build a website from scratch or develop some crazy custom enhancement, but I have enough skills to make a very professional and clean looking site. Why wouldn't I use those abilities to make myself some money and solve someone else's problems?
Someone in my family is a one-man IT shop for a small business and he was complaining about how they pay some guy ridiculous amounts of money to make the most minorchanges to their website. I told him I could make them a wordpress website and train him to make the updates himself.
They get a better website that is cheaper to maintain, and I make a little site money. Boom!
Almost Any Hobby Can Make You Money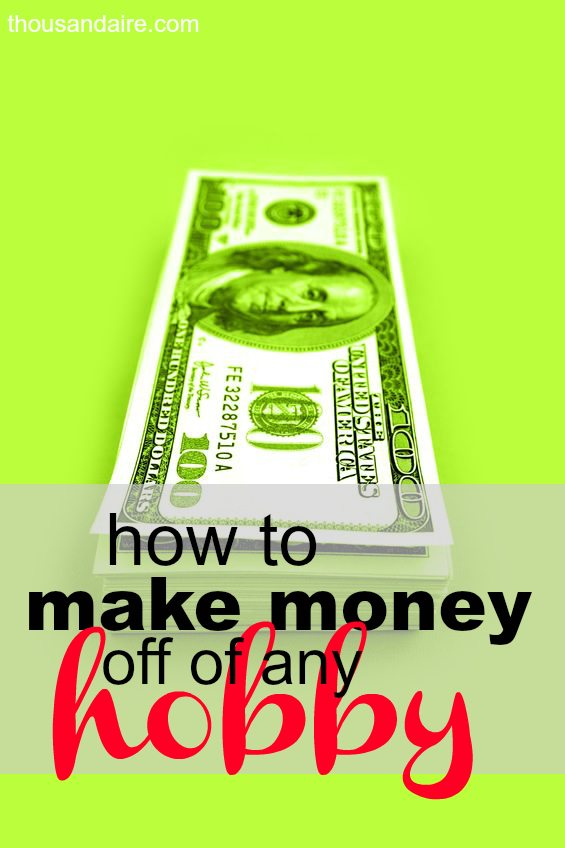 You might be thinking that you don't have a hobby that's as valuable as website development, so you can't make money with your hobby. But if you are, I think you are dead wrong.
I was a competitive swimmer in high school and college; you could call swimming a hobby of mine. I took the skills I learned from that "hobby" and became a summer league swim coach, lifeguard, and eventually a pool manager. I made a lot of money through high school and college because I was good at swimming.
Then I got really interested in fantasy football. I knew so much about NFL players and stats that I started writing about fantasy football for a decent sized fantasy sports company. I took that hobby and turned it into a revenue stream as a paid author.
If you have a hobby that you love, there's a pretty good chance lots of other people love that exact same thing and could use your expertise. Here are a few ways you can make money with a hobby:
Teach people to do what you do or provide some other service
Start a website about your hobby and make money with ads
If your hobby involves making things, sell those things
Start a group where people can do your hobby together
Start selling equipment and products to people who do your hobby
These are just a few examples of ways you could turn your hobby into income. It doesn't matter what your hobby might be; you can probably leverage it to make money.
That doesn't necessarily mean you should. Making money from your hobby takes work, and you might not want your hobby to become "work". But if you need some extra cash, or if you want to start working in a career that you are passionate about, it can't hurt to try to make some money off what you love. (And if you think you'll get bored working from home here's how to beat that!)
Readers: Do you make money with your hobby, and if so: how? I'd love to hear all the ways people turn their passion into something profitable!