I'm back in the saddle talking about my wedding and how we are trying to have a great wedding without spending more than $20,000. As always, if you think $20,000 is too much to spend on a wedding then I will direct you to this post.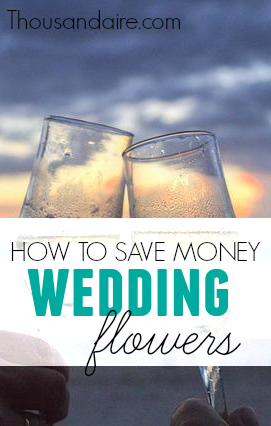 We've already covered the overall budget of $20,000 and we've talked about the photographer. Now let's talk about one of the most important things to many brides, and one of the least important things to many grooms (according to a comprehensive survey including Tag and myself): flowers.
However, we are having a traditional wedding, which means Tag and her bridesmaids will have bouquets and there will be flowers in a lot of other different places too. Tag loves flowers and we aren't going crazy with them but we will have some. We also wanted to make it happen as cheaply as possible without a DIY solution.
Reuse Flowers from the Ceremony
Florists want to make as much money as possible, so they will want you to spend as much money as possible. Don't be surprised when they have a bunch of different flowers for the bridesmaids bouquets, ceremony flowers, and then a completely different set of flowers for the reception.
Tell your florist that you want to reuse everything from the ceremony at the reception. Bridesmaids bouquets can be transitioned into centerpieces. Decorative flowers at the church can be used somewhere else as well. The more you reuse, the cheaper it should be. Just keep in mind it is more work for your florist, so you might have a pay a little extra for reusing things.
Get "Cheap" Flowers
There are certain flowers that are cheaper than others, especially at different times of the year. I know next to nothing about flowers, but I recently learned that carnations are inexpensive. There are also seasonal flowers that are cheap at different times of the year, so ask multiple florists about what is cheap around your wedding.
If you load up your wedding with carnations and seasonal flowers then you can get a bunch of flowers at a low price, and most people will have no idea those are the "cheap" ones. And if you have people at your wedding who are looking down on you because you got inexpensive flowers at your wedding, then you might want to consider not hanging out with those people anymore.
Can You Match That Price?
This is the same advice I'll give for every vendor you deal with, but get multiple quotes and use them against each other. When you find a vendor you like, here are a few phrases you can use to lower your costs:
"Flowers XYZ is offering my bouquets at $125 a piece instead of the $150 you are charging. Can you match that price?"
"The delivery charge for Wedding Flowers Unlimited is 1/2 the cost of your delivery charge. Can you match that price?"
"A Flower Company is offering me a 5% discount if I pay in full today. Can you offer the same deal?"
You'd be surprised how much money we've saved by simply comparing one quote to another in front of the florist.
We Spent $1,263.81 on Flowers for Our Wedding
Using all of these tips combined, we spent just $1,263.81. I know that probably sounds like a lot of money to most people, but all of our initial quotes were in the $1,600-2,000 range. An average wedding spends $1,800 on flowers, so we did ours at almost a 30% discount.
Readers: Do you have any tips to help people save money on flowers for their wedding?