Every year my fiancee's parents do a big 3 weeks vacation in the western USA camping, hiking, and doing all kinds of fun outdoor activities. In the three previous summers I've been with Tag I've always wanted to go but never had the chance.
This year I'm going!
This trip is going to be a lot of fun because I'll get to spend quality time with my fiancee and future in-laws, and I'll also get to see parts of the country that I've never seen before.
Have you ever been to the Grand Canyon? I haven't, but I will this summer! My family was never really big on camping and hiking so this will really be a great new experience for me.
And best of all it's really cheap.
Travel and Accommodations are Super Cheap
When you travel two of your biggest expenses are your travel to and from your destination, and a place to sleep once you get there. On this trip, I won't have to pay for either!
We are leaving Dallas with Tag's parents. It will take two days to get from Dallas to Arizona, but I hear we have something exciting planned for our stop in New Mexico. Her parents are taking care of the gas, and while I'll probably offer to fill up the tank I don't know if they will let me. The bottom line: my transportation there is free.
Once we get there, we are staying in the camper. This isn't some cheap little thing either. I'm not a camping expert so I don't really know how to describe it. Let's just say it looks a lot like this trailer, except newer and probably nicer.
The trailer has a master bedroom and then a second bedroom with bunk beds. That means all we have to pay is the campsite fee (which is way cheaper than a hotel) and again, this is pretty much be covered by my future in-laws. Accommodations: free again.
So getting there is basically free and sleeping during the trip is basically free. But what about getting back? I can't stay for the whole 3 weeks of vacation, I'll need to fly home early. That could be expensive right?
I Have a $2.50 Flight from Phoenix to Dallas
Tag and I are saving up for a wedding. Even though most of this trip is free, we still don't have the money to spend hundreds of dollars on a flight home. However, I wasn't going to let that get in the way of taking this awesome vacation.
I have a bunch of British Airways Avios miles saved up from the British Airways credit card. Luckily British Airways is a partner with American Airlines and I can use the miles to fly domestically on American. It would have cost me over $450 to pay for two plane tickets from Dallas to Phoenix without using rewards.
With my miles, it costs me $5 and 15,000 points for two plane tickets from Phoenix to Dallas. That's $2.50 per person. Check it out: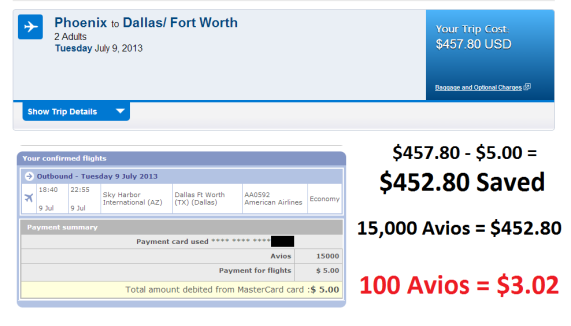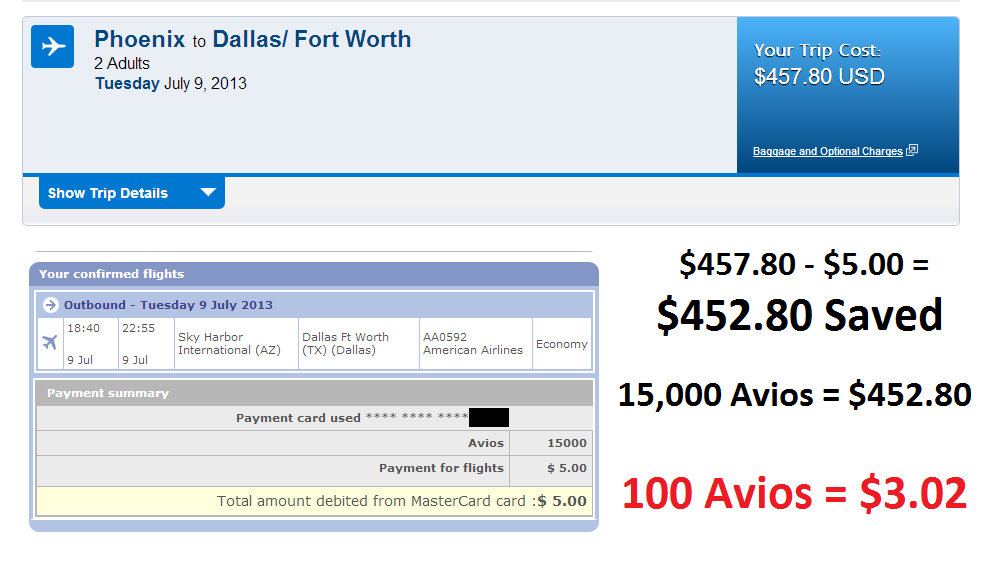 That's the proof that I'm saving over $450, and that each Avios point is worth over 3 cents! That's a killer deal!
I Love Cheap Vacations
There's nothing better than a cheap vacation. I can get away from work, spend some time in nature, and all the while not have to worry about how much money it's going to cost me.
If you want to save money on vacations and earn more rewards, you should really check out my new site Reward Boost, which helps you maximize your credit card rewards. If you earn rewards like I do, then you might be able to take free vacations like me too!
Readers: How do you save money when you go on vacation?