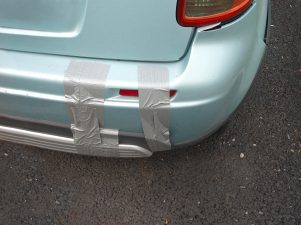 Want to guesstimate whether your neighbor can afford their car? Look for haphazard and unsightly do-it-yourself repair jobs. Growing up in New York City, I saw this all the time. And if you don't see others doing it, then it might be you. Patching up a bumper is expensive but that's no reason to not conduct a clean patch-up job. For example, you can use Black Gorilla tape to fix minor bumper damage.
Owning a car comes with heavy financial responsibility.
Driving around with car damage could make things worse, precipitate an accident, and cost you more money.
But many car owners are struggling financially and can't maintain their cars. Some don't even have car insurance.
About 40% of Americans could not produce $400 in a spontaneous financial emergency and about 32 million Americans drive every day without any car insurance.
With facts like these, it's understandable why some drivers resort to garbage bags to patch their car windows.
The average cost to fix minor car damage, such as a minor fender or bumper damage, can cost anywhere from $500 to $1,500.
I have tips on affordable car insurance options for those living in high-cost of living cities, below.
But first, some tips on how to use Black Gorilla tape to fix minor bumper damage.
Using Black Gorilla Tape to Fix Minor Bumper Damage
Here is why you should use the Black Gorilla tape to fix minor bumper damage.
Black Gorilla tape is three times stronger than the average duct tape. It is a doubly-thick adhesive tape that is manufactured with a strong reinforced backing.
Black Gorilla tape can act as a great, temporary, artificial shell for minor home and auto repair projects.
You can buy a roll of Gorilla Tape for $12 at most retail stores, or about $13 on Amazon.   If you don't have some, you might as well go and order a roll or two. Just click on the photo below, or click here.
If you're going to perform minor car repairs with duct tape, the $1 version at the dollar store just won't do.
I think Black Gorilla tape is only available in black and maybe grey. Don't be too picky if your car is another color.
And, this should be a temporary fix.
These tips are optimal for minor aesthetic misalignment fender and bumper issues that can be resolved with duct tape. All the Gorilla Tape in the world won't patch up catastrophic damage on a car.
It is dangerous to drive around with structural damage that has the potential to get worse. You're bound to attract the ticketing attention of police. Only undertake any repairs that keep your vehicle safe and roadworthy.
How To Do Your Ad Hoc Duct Tape Auto Work
Start by cleaning the repair area with soap and water. Then allow it to dry thoroughly so the tape will adhere better.
Try to make this repair a two-person job. The other person can keep the bumper or fender flush and structurally aligned as you adhere the tape to it.
Smooth out the tape as you adhere.
Remove any visible air bubbles to create a strong bond. Add as many layers of tape as you see fit to ensure the strongest bond.
You don't want the tape failing under the stress of operation and maneuvering.
Your aim is to make a realignment bond that is as strong and as tightened as possible.
Make sure you take a few test drives to see how your patch job holds up.
Practice makes perfect. But if you pay attention to what you are doing, you can use Black Gorilla tape to fix minor bumper damage.
Remember, this is a DIY repair that should last a few weeks or months at best until you can facilitate repairs. This is NOT a permanent repair solution and you are asking for surprise problems in the future if you treat it that way.
This brings us to another topic – like why you need to use duct tape for DIY auto repair in the first place.
The Need For Car Insurance
Millions of Americans are out of work on any given year but they might still need a car to find work and to run their errands.
Because of financial issues, some may need to tape over their windows with garbage bags or reattach a bumper with duct tape when car repairs are needed. Some may even miss insurance payments.
Driving without insurance risks your safety and that of others. It may even cost you more when an accident occurs.
You also risk fines, safety hazards, lawsuits, and arrest by driving without a license.
Using Black Gorilla Tape to Fix Minor Bumper Damage (And Other Options)
If your car insurance is being canceled, you may qualify for a grace period before termination. Ask your representative.
Here is a list of the best car insurance companies with the cheapest annual premiums:
Erie – $835
Texas Farm Bureau Insurance – $1,041
Country Financial – $1,136
Amica $1,183
Geico – $1,198
Call these guys are see if you can lower the cost of your premiums..
Reassess your finances. Prioritize need over want. Find small, incremental ways to save more than you owe.
Being a car owner is an identity for many. Don't let the pride of that identity stall the need to improve your personal finances.
If you need Black Gorilla tape to fix minor bumper damage, you shouldn't close yourself off to other options.
Read More
How to Trade a Car You Still Owe Money On
What Are The Best Classic Cars for Investment?
What Every 1st Car Buyer Should Do Before Purchasing an Auto
How To Buy A Used Car And Not Get Ripped Off
Looking For A Trading Laptop – Here Are The Best Ones

Allen Francis was an academic advisor, librarian, and college adjunct for many years with no money, no financial literacy, and no responsibility when he had money. To him, the phrase "personal finance," contains the power that anyone has to grow their own wealth. Allen is an advocate of best personal financial practices including focusing on your needs instead of your wants, asking for help when you need it, saving and investing in your own small business.