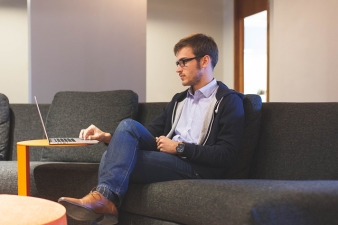 Coming up with entrepreneurial ideas isn't easy. It seems like it should be because you could come up with anything you want. The problem is, it seems like everything has been done. It's difficult to get creative and come up with something fresh and new. Your business venture doesn't need to be something that has never been done. It can be something that is common but in high demand or something that is common but with a twist that sets yourself apart from the rest. Here are some entrepreneurial ideas that you should consider.
House Cleaning
Houses need to be cleaned. They have always needed to be cleaned and they always will need to be cleaned. This is a business venture that can't go wrong as long as you do it properly. Come up with your own business name, set fair rates, and learn how to advertise. You can start with family and friends so they can critique your work and give you honest feedback on how you can improve. You can offer them free or low-cost services for their help. Find some busy people that work long hours and you will have plenty of homes to clean.
Editorial Services
If you love being the grammar police on social media, maybe you should turn it into a job. You can start advertising editorial services for writers. You can offer services such as proofreading, copyediting, book formatting, or even ghost writing. If you're nervous about editing, you can begin as a proofreader and work your way up. There are many different websites that people post jobs on for freelance writers and editors. You can browse the jobs and apply for them. You could end up with enough clients to pay all of your bills. You might have to start by taking low-paying work; but once people start learning your name and you have some reviews, you'll be making some good money.
Buy a Franchise
Owning a franchise is a great way to start a business. One of the best perks about purchasing a franchise is that the most difficult part is already done for you. You don't have to worry about a startup or a potentially failed business. Buying an already-successful business is practically a guarantee that you will succeed. As long as you're a great leader and know how to manage the franchise, you will do just fine. Eugene Chinian began by purchasing an Ashley Furniture store, and now he owns seven different locations. One day, you can own a whole chain of a store or restaurant that you love.
Professional Organizer
If you love keeping your home organized, why not make some money from your skills? Many people have organizational issues and they need someone to come in and teach them how to be more organized in their lives. You can charge a fee based on how much work needs to be done and how many different organizers you need to buy for their home. Start by making a portfolio. Take photos of different spaces around your home and add them to your portfolio like an album. As you begin working, ask your new clients if you can take photos of your work in their homes for your portfolio. Making it as large as possible will help you in the future. Make sure you give people several options because they won't necessarily want the same organizers and strategies as you do in your home.
Sewing
If you're good at sewing, turning it into some extra cash would be a great idea. You can make blankets, dresses, throw pillows, and many other things. You can begin by selling a few times to friends and then make your own store on Facebook or Etsy. Eventually, you might end up with a huge store of your own. Maybe you'll even have a physical business location with employees who help make handmade items. It would allow you to service more customers and stay a truly handmade company. When it comes to sewing, there are so many different possibilities.
Flip Houses
Flipping houses is an amazing way to make money. You can purchase homes that are being auctioned off after a foreclosure. Many are in rough shape, especially if you buy them for a steal, so you'll need knowledge about fixing up homes. This isn't something you can do without extra cash or a credit card with a decent limit. You'll need to hire someone to inspect the foundation, the electrical, the pipes, and everything else in the home. You might need to install flooring or cabinets. You can always hire someone to do the work, but you'll make a much larger profit if you learn to do it yourself. Finding a partner to go in on the homes with you would be a good idea. You can split the cost, the work, and the profit. Once you flip a house, you might be able to buy two more. Eventually, you might be buying every foreclosed home in your area and become a mogul.
Being an entrepreneur isn't always easy, but it just takes one good idea to get going. Think about these ideas and decide if you would be happy doing any of these things as a career.
Join the Thousandaire newsletter
Subscribe to get our latest content by email.